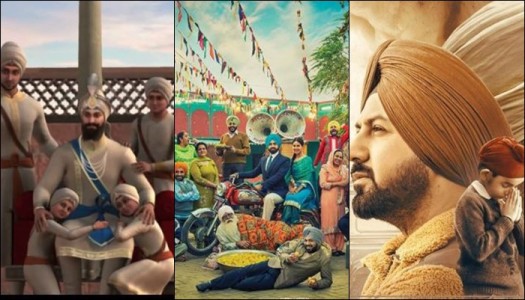 10 Worldwide Highest Grosser Punjabi Films
The Punjabi industry is growing tremendously since the last decade. Punjabi films are getting worldwide recognition in recent times, and they have done great business across the globe. Here are a few Punjabi films that got the highest-grossing in the last few years:
Jatt & Juliet was a blockbuster hit in the year 2012. This movie is a rom-com story, which is still loved by many. A boy named Fateh wants to marry a Canadian girl but ends up falling for Pooja, who wants to study in Canada. The film did 23.09 crore business overall.
Chaar Sahibzaade is a 3D animated movie released in 2014 is based on historical events. The film showcases the sacrifices done by sons of 10th Sikh guru, "Guru Gobind Singh" Ji, Sahibzada Ajit Singh, Jujhar Singh, Jorawar Singh, and Fateh Singh. It is a very strapping and emotional film that earned 45.96 crores worldwide.
Angrej is 2015's most loved movie. It is based on the era of the traditional culture of Punjab when no partition took place. Amrinder Gill, Aditi Sharma, and Sargun Mehta starer movie did 30.68 crore business globally.
ALSO READ: DAAKUAN DA MUNDA 2: DEV KHAROUD AND JAPJI KHAIRA TO LEAD IN SEQUEL
Ambarsariya is a comedy film released in 2016. Diljit Dosanjh's hilarious comedy was well appreciated in the movie. The film earned 24.88 crores at the box office.
Gippy Grewal and Sonam Bajwa's Manje Bistre was released in 2017. It is a romantic-comic genre movie based on the traditional weddings of Punjab. The box office collection of the film was 31.74 crores worldwide.
Carry On Jatta 2 was released in 2018, it was a sequel of Carry On Jatta released in 2012. The film stars Gippy Grewal and Sonam Bajwa in the lead. Carry On Jatta did well at the box office and earned 57 crores globally.
Sargun Mehta and Ammy Virk starer Qismat is a romantic movie. The film was released in 2018 and broke all the records. This film did a great business worldwide with 31.30 crores.
Ardaas Karan was released in 2019. The film revolves around three men living in Canada. It's a story of family values and spirituality. Ardaas Karan did a business of 31.82 crores worldwide.
ALSO READ: DILJIT DOSANJH TALKS ABOUT LEARNING MARATHI FOR 'SURAJ PE MANGAL BHARI'
Diljit Dosanjh and Neeru Bajwa starer Shada is a 2019 drama film. The story revolves around a young man who's parents want him to get married. When he finally finds a girl, she shares her thoughts about how she doesn't believe in marriage. Shada earned 52.75 crores across the globe.
Ammy Virk and Tanya's Sufna was released in 2020 before the coronavirus outbreak. It's a love story where a not so serious young man falls for a very quiet woman. The film did 19.35 crore business globally.
What are you watching this weekend now?
Previous Post
Next Post