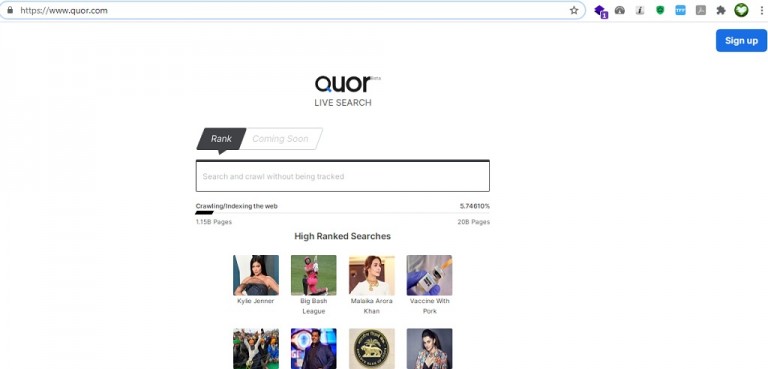 Say Hello to Quor, a Huge Step Forward In the Search Engine Industry
This project is being touted as one of the most prestigious and ambitious ones. The goal is not to take down giants like Google or Yahoo! but to give the user a safer and more streamlined browsing / searching experience. Quor was conceived not to compete with already established names in the business but to create a niche of users for itself that seeks safety, security, quality of search results and relevant information.
Features That Make Quor Unique - The Year 2021 Is About To Witness A Different Way iTo Explore The Online World
This search engine has already crawled over 1.1 billion pages and the count continues to increase as we speak

Quor is fourth among the top most and leading search engines around the world

By the middle of 2021, the search engine will have crawled more than 20 billion pages

Users seeking organic and uninterrupted browsing experience are looking in the right direction with Quor as it brings a completely nonintrusive and ad free interface

Neuroscience, AI and deep machine learning are in the foundation of this search engine making it completely distinct from its contemporaries

No imitation, just inspiration; Quor is popular because it boasts of a design and ranking system that are as unique as its user base

The first release of this search engine ensures a conventional ranking system and easy to use search tool

Sick of paid advertisements? Quor is for you!

No trackers, no VPN, no cookies, just 100% privacy

What makes Quor even more credible is the fact that it is already among the leading search engines in the market (holds the fourth position to be precise)
The Much Talked About Patent
Quor Is Not Just a Search Engine, It Is an Experience
With several new types of search engines and various digital warning systems to its credit, parent company came up with Quor to provide its users with the purest form of online browsing experience. It boasts of a one of a kind real-time warning system. It is a patent that is going to enable it to detect, alert, warn and protect its users through signals and notifications about any potential dangers from malicious cookies and similar elements.
Say no to:
Clutter advertisement

Tracking cookies

Tracking beacons

Malicious websites and domains

Fraudulent or scam websites

Fake online marketplaces and shops

Malware sandboxes

Phishing
The safety of both your desktop and mobile devices is what the developers of Quor  value the most. It's highly advanced warning system works for you regardless of the device you use. It is nothing like the traditional ad blocker. Want more? The Quor warning system will soon be made available to the most popular browsers and search engines as an add-on and extension!
Previous Post
Next Post