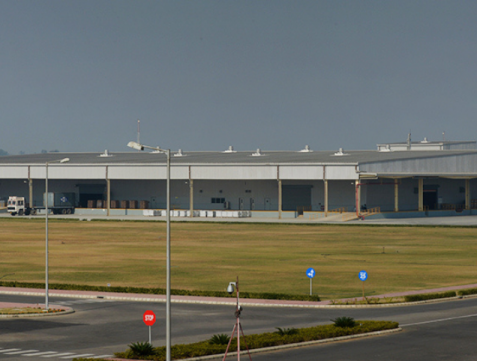 Manufacturing Industry in India
Reliance MET is offering Industrial Land to setup Manufacturing Plant Jhajjar. The Government of Haryana has approved Reliance Industrial Plots as Model Economic Township - Reliance MET.
Manufacturing has emerged as one of the high growth sectors in India. Prime Minister of India, Mr Narendra Modi, launched the 'Make in India' program to place India on the world map as a manufacturing hub and give global recognition to the Indian economy. Government aims to create 100 million new jobs in the sector by 2022.
Market Size
The Gross Value Added (GVA) at basic current prices from the manufacturing sector in India grew at a CAGR of 5% during FY16 and FY20 as per the annual national income published by Government of India. The sector's GVA at current prices was estimated at US$ 397.14 billion in FY20PE.
Business conditions in the Indian manufacturing sector continue to remain positive. The manufacturing component of IIP stood at 129.8 during FY20. Strong growth was recorded in the production of basic metals (10.8%), intermediate goods (8.8%), food products (2.7%) and tobacco products (2.9%). India's Index of eight core industries stood at 131.9 in FY20.
According to the Ministry of Statistics & Programme Implementation, India's industrial output, measured by IIP, rose by 3.6% y-o-y in October 2020.
Merchandise export decreased 4.78% y-o-y to reach US$ 314.31 billion in FY20.
In October 2020, India's manufacturing sector recorded improvement for the third consecutive month, with businesses growing production to the greatest extent in 13 years in the middle of robust sales growth. (Purchasing Managers' Index) PMI fell from 58.9 in October 2020 to a three-month low of 56.3 in November 2020, signifying strong growth in the manufacturing sector, despite losing traction.
Investments
With the help of Make in India drive, India is on a path of becoming the hub for hi-tech manufacturing as global giants such as GE, Siemens, HTC, Toshiba, and Boeing have either set up or are in process of setting up manufacturing plants in India, attracted by India's market of more than a billion consumers and an increasing purchasing power.
According to the United Nations Conference on Trade and Development (UNCTAD), India ranked among the top 10 recipients of Foreign Direct Investment (FDI) in South Asia in 2019, attracting US$ 49 billion—a 16% increase from the previous year.
Cumulative Foreign Direct Investment (FDI) in India's manufacturing sector reached US$ 89.40 billion during April 2000 March 2020. In May 2020, the Government of India increased FDI in defence manufacturing under the automatic route from 49% to 74%.
India has become one of the most attractive destinations for investment in the manufacturing sector. Some of the major investments and developments in this sector in the recent past are:
In November 2020, the National Small Industries Corporation (NSIC) signed a Memorandum of Understanding (MoU) with Dun & Bradstreet Information Services India to create an ecosystem to encourage, finance and promote growth of micro, small and medium enterprises (MSMEs).
In October 2020, Japan Bank for International Cooperation (JBIC) agreed to provide US$ 1 billion (Rs. 7,400 crore) to SBI (State Bank of India) for funding the manufacturing and sales business of suppliers and dealers of Japanese automobile manufacturers and providing auto loans for the purchase of Japanese automobiles in India.
In October 2020, Tata Group announced plans to invest Rs. 5,000 crore (US$ 673.20 million) to set up an Apple phone component plant in Hosur, Tamil Nadu
In October 2020, Grinntech, an investor-backed startup specializing in lithium-ion batteries for Evs and energy storage systems, signed a MoU with the Tamil Nadu government to establish a battery and battery management system manufacturing facility in the state.
In October 2020, five international electronics manufacturing applications from companies such as Foxconn, Wistron, Pegatron, Samsung and Rising Star have been approved by the Government of India to set up production worth Rs. 9 trillion (US$ 122.5 billion) over the next five years.
In October 2020, five Indian manufacturers such as Micromax, Lava, Padget Electronics, UTL Neolyncs and Optiemus Electronics have been cleared by the Government of India to set up handset production worth Rs. 1.25 trillion in the next five years (US$ 17.02 billion).
In September 2020, Pegatron, the second-largest manufacturer of Apple after Foxconn, began its India operations with the appointment of statutory auditors and transfer of Rs. 99 lakh (US$ 0.1 million) for an initial subscription of equity shares. The move is a precursor for the Taiwanese electronics maker to set up a manufacturing base in India.
In May 2020, Sterling and Wilson Solar Limited (SWSL) bagged an Engineering Procurement Construction (EPC) contract in Australia for Rs. 2,600 crore (US$ 368.85 million).
In March 2020, Oricon Enterprises entered into a joint venture agreement with Italy-headquartered Tecnocap Group to set up a new company, Tecnocap Oriental, for manufacturing lug caps.
Government Initiatives
The Government of India has taken several initiatives to promote a healthy environment for the growth of manufacturing sector in the country. Some of the notable initiatives and developments are:
In November 2020, the Ministry of Skill Development and Entrepreneurship begun skill training of 3 lakh migrant workers from the identified 116 districts across Uttar Pradesh, Bihar, Rajasthan, Odisha, Madhya Pradesh and Jharkhand. The initiative aims to empower migrant workers and rural population in the post-COVID-19 era through demand-driven skilling and orientation under the centrally sponsored and centrally managed (CSCM) component of the Pradhan Mantri Kaushal Vikas Yojana (PMKVY) 2016-20.
In March 2020, the government approved the Production Incentive Scheme (PLI) for Large-scale Electronics Manufacturing. The scheme proposes production-linked incentive to boost domestic manufacturing and attract large investments in mobile phone manufacturing and specified electronic components including Assembly, Testing, Marking and Packaging (ATMP) units.
In May 2020, Government increased FDI in Defence manufacturing under the automatic route from 49% to 74%.
In March 2020, the Union Cabinet approved financial assistance to the Modified Electronics Manufacturing Clusters (EMC2.0) Scheme for development of world class infrastructure along with common facilities and amenities through Electronics Manufacturing Clusters (EMCs).
As per the Ministry of Statistics and Programme Implementation (MOSPI) & Ministry of Labour & Employment report on Payroll Reporting in India, number of new subscribers* under Employees' Provident Fund Scheme reached 10,47,167 in September 2020.
Under the Pradhan Mantri Kaushal Kendras, 73 lakh people were trained during 2016-20 while 723 Pradhan Mantri Kaushal Kendras were established till Jan 2020.
As of August 2020, there were about 15,000 Industrial Training Institutes (ITIs) in India.
In August 2019, the Government permitted 100% FDI in contract manufacturing through the automatic route.
In February 2019, the Union Cabinet passed National Policy on Electronics (NPE), envisaged to create a US$ 400 billion electronics manufacturing industry in the country by 2025. 32% growth rate has been targeted globally in next five years.
Under the Make in India initiative, Government aims to increase the share of the manufacturing sector to country's GDP to 25% by 2025.
Under the Mid-Term Review of Foreign Trade Policy (2015-20), the Government of India increased export incentives available to labour intensive MSME sectors by 2%. In April 2020, Government extended FTP for one more year, up to March 31, 2021.
Road Ahead
India is an attractive hub for foreign investments in the manufacturing sector. Several mobile phone, luxury and automobile brands, among others, have set up or are looking to establish their manufacturing bases in the country.
The manufacturing sector of India has the potential to reach US$ 1 trillion by 2025. The implementation of the Goods and Services Tax (GST) will make India a common market with a GDP of US$ 2.5 trillion along with a population of 1.32 billion people, which will be a big draw for investors. The Indian Cellular and Electronics Association (ICEA) predicts that India has the potential to scale up its cumulative laptop and tablet manufacturing capacity to US$ 100 billion by 2025 through policy interventions.
With impetus on developing industrial corridors and smart cities, the Government aims to ensure holistic development of the nation. The corridors would further assist in integrating, monitoring and developing a conducive environment for the industrial development and will promote advance practices in manufacturing.
Source : https://www.industrialplotsncr.com/post/manufacturing-industry-in-india/index.html
Contact us for guaranteed offer with best price. Call / WhatsApp us today @ 8825183565
References for Residential Apartments across India:
Previous Post
Next Post