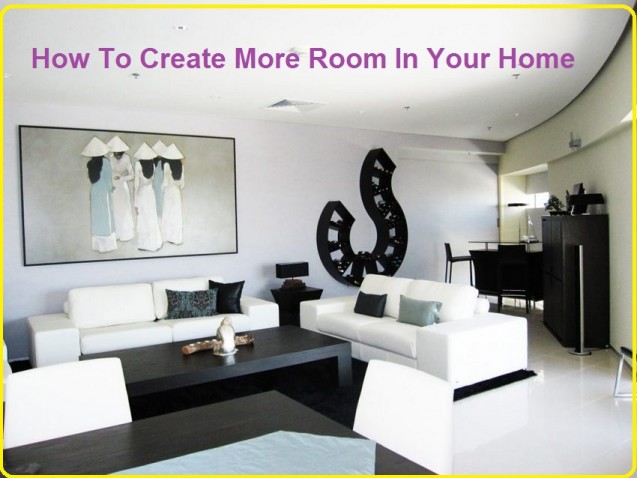 How To Create More Room In Your Home
Who doesn't want more room in their home? However, without adding an extension or moving completely, it can seem impossible to find extra space. Fortunately, there are lots of ways you can create more room in your home. Here's how to do it.
Add Mirrors
Mirrors instantly make a room feel bigger. Unlike a hard wall, a mirror gives the illusion of more space. Of course, this won't actually give you any more space, but that's not the point. The larger a mirror is, the more space it will appear to create. You should also think carefully about where the mirror is - if you place it opposite a window, it will appear to bring greenery and sunlight into a room.
Add The Right Balance Of Furniture
Finding the right balance of furniture is essential to add more space. Sure, you might want that big corner couch and that huge antique bookshelf, but both of them are taking up tons of room. If you feel cramped in your home, you need to find furniture that gives you more space.
Build More Storage
Build some clever storage to get rid of clutter in your home. For example, you could build a shelf around the ceiling for books and small items. This is unused space and will remove the need for a large bookshelf. The more clever storage you can build in your home, the less cluttered it will feel.
Pay For Self Storage
If you simply don't have any space left at home, you should consider paying for some extra storage. Using a company like 
 The Storage Locker you can find a semi-permanent home for your beloved items, knowing they're safe and out of the way. This is a much cheaper alternative to moving to a large house.
Hide Extra Clothing
If you want your bedroom to appear larger, you need to remove clothing from sight. It should be neatly folded away or hung up in a wardrobe. This will instantly make your bedroom feel larger and give you more room to breathe.
Clean Up Your Bathroom
The bathroom is one place where many people neglect to make extra room. However, you can feel just as cluttered in this room of the house. Use clever storage hacks to keep bottles to a minimum and make sure there is room to move around in there.
Store Belongings InAn Ottoman
An ottoman is the perfect piece of furniture if you're looking to create space. It can be used as a place to sit down, and inside is plenty of room for storage. They work as a great storage space for blankets and soft cushions.
Wallpaper Or Paint The Walls
Paint should be used to make a room feel bigger. As a general rule, lighter colors make a room feel much bigger because dark paints absorb light. However, it can also work to have one feature wall. This is where you paint one wall a different color from the rest. It makes the wall seem further away than it is, making the room feel bigger.
Previous Post
Next Post