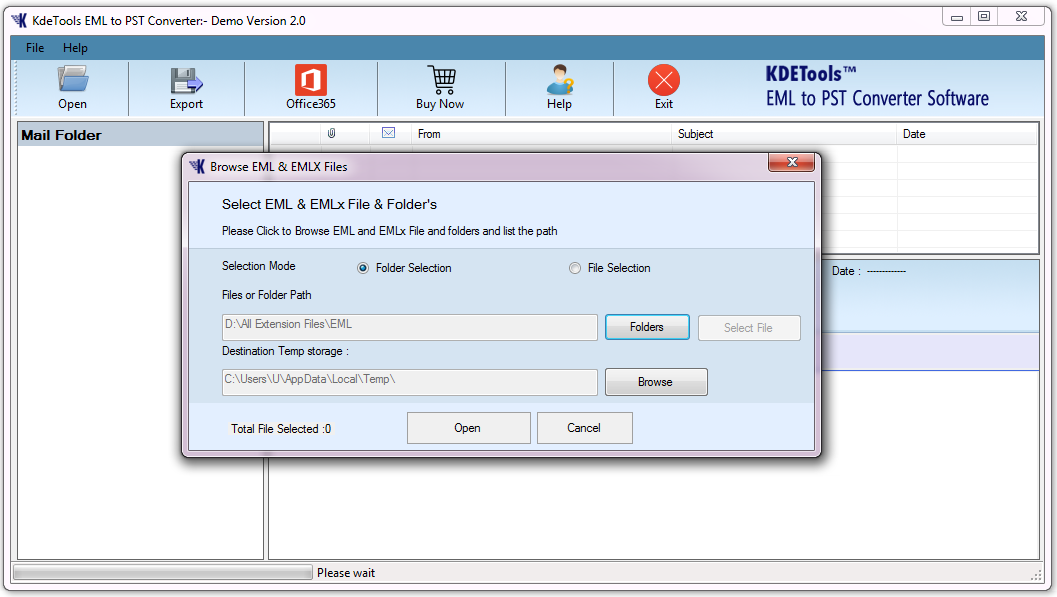 How to Import EML to PST
Users are constantly migrating from different Email client to Outlook, due to the increasing demands for MS Outlook. As the number of Emails clients is increasing, the choice of users is also increasing and as you know that MS Outlook is an Email application that is used to send and receive messages. It also includes Contacts, Tasks, Calendars, Journals, Note-taking, web browsing, and etc. Nonetheless, many users need to work with EML files and the users need to depend on Outlook Express email client to open them and view the Emails. So, it becomes grueling for users to open EML files without Outlook Express Email client. And the security of data is also a reason for turning people into Outlook users. In this blog, we will discuss how to import EML to PST.
Why Do Users Need to Import EML to PST?
There are several conditions responsible for importing Outlook Express users to Outlook. No doubt, the main reason behind the importing of EML files to Outlook is the popularity of Outlook. MS Outlook provides more features as compared to others. As EML formats can save data only one Emails and Outlook PST format saves data along with contacts, appointments, and more. Users are also suffering from corruption issues with EML files, software and hardware crash, human-created errors, etc. All these problems make users move towards the Outlook PST file formats.
Know Techniques to Import EML to Outlook
There are different ways to import EML files to Outlook. You can import EML files to Outlook by Manual as well as a professional way. Thus in this section, both manual and professional solution to Import EML files to PST format is discussed.
But before starting the manual method it is important to create a backup of your EML data because there are chances of data loss with this process.
Manual Method to Import EML files to Outlook
• Open the MS Outlook and Windows live mail account.
• And now, go to Window live mail and click on File and then click on Export and then Email message option.
• From the window, live mail Export chooses MS Exchange and then clicks the next button.
• After that, you will get an export confirmation; just click ok to proceed on to import EML files to Outlook.
• You can either migrate all email folders or select the only appropriate folder that you need to export using a select folder option and then click OK to continue.
• Once the process is completed, you will get a complete message. Now just click ok button.
As the manual method is not at all 100% guaranteed. There is some issue while converting EML files to Outlook manually like required proper technical knowledge for conversion, there is always a chance of loss of data and sometimes very complex to operate, fails to migrate the bulk of EML files, unable to migrate large size EML files.
A Guide on How to Import EML to PST via EML to PST Converter
There are several reasons to choose EML to PST Converter. The software offers you advanced options that make it stand in front of top-notch features software. Some of the great options of this software are as follow.
Accurate and safe conversion

: provides the accurate and safe conversion of EML files to Outlook as well as some other file formats such as PST, MSG, MBOX, EMLX, and HTML, etc. and keep the data in the original form.

Import EML to Office 365 and Exchange server

: This software has an advanced option to import EML files to Office 365 and Live Exchange Server securely and maintain the login information safe.

Dual file selection

: The software provides users the dual EML/EMLX file selection like File selection by which you can browse different EML files for conversion and folder selection by which you can select a folder that contains EML/EMLX files.

Preview:

The software provides you with an instant preview before the final conversion of EML data with all emails and its properties also software ensures the complete conversion of EML data.

Supports all Windows and EML formats

: This software supports all window versions and supported EML and EMLX supported Email clients such as Windows live mail, Apple Mac Mail, MS Outlook Express, Thunderbird, etc.
Read More: http://www.emlmails.com/
Previous Post
Next Post