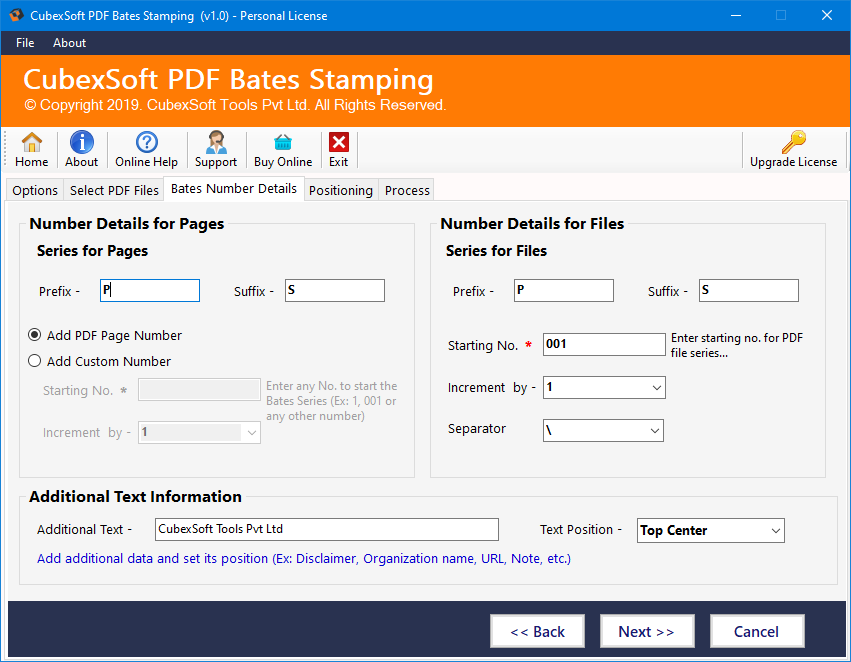 Need Bates Stamping a PDF File? Know Reasons and Solution!
Want to add Bates stamping a PDF file without any data loss, then read this blog that will help you know the complete process for inserting bates numbering to a PDF file.
As we all know PDF is the most common and popular format for creating and saving important documents. Owning to their secure nature, they are widely used in various departments, especially attorney and legal departments. But there comes a time when these PDF files become large in numbers and it becomes difficult to manage and retrieve data from them. So, to come out this situation, they decide to go for bates stamping a PDF file. But the big question is how to add PDF bates stamping to these documents?
How Bates Stamping a PDF File is Done? Know Various Methods!
If you search for a method to put bates numbers to PDF, then internet is flooded with many solutions, but you need to choose the right one, wisely. Here we will discuss both manual and professional methods and you can decide to choose any one, as per your needs and comfort.
Method I : Manually Insert Sequential Numbers to PDF with Acrobat Reader
Start Acrobat Reader DC Pro

Now click on Tools >> Edit PDF >> Secondary Toolbar
Click on More, choose Bates numbering and then click on Add
Now click on Add Files, Add Folder or Add Open Files options to add PDF files and select the required PDF from your desktop store location.
Note : You need to provide password to open password protected PDF file.
Now arrange the listing order of files, open Add Header and Footer box and click OK.
Now click on Insert Bates Number and add the required information.
You can even provide the Prefix and Suffix info that will be displayed before and after bates numbers.
Now check the preview of your PDF and finally click OK button.
As you can see above the manual method will allow users to add bates stamping PDF documents, but there are some limitations to this suggested method. You need to have Pro License of Acrobat Reader DC to use all its full functionalities. Additionally, the process is useful for technical users only and novice users might find this method tricky. Moreover, one needs to decrypt PDF documents for adding bates stamp to them.
Considering the many limitations of manual method, users are now searching for some expert solution to solve their problems.
Method II : PDF Bates Stamping Software – Professional Solution
To help users easily add bates stamping a PDF document, experts have suggested PDF Bates Stamping Software. Its an easy to use application that enables both technical and non-technical users to effortlessly insert page sequences to a PDF document. You don't even need to worry about your encrypted PDF documents as the software successfully removes encryption from selected PDF files and place bates stamping on them. The software even supports inserting of page numbers to multiple PDF files at once, in batch mode. Adding Customized page numbering to PDF is also possible with this expert utility. Moreover, PDF Bates Numbering Tool is suitable for bates stamping a PDF file on all Windows OS – 10, 8.1, 8, 7 etc.
Now, let's have a look at the step by step working of the software :
First download and launch the software on Windows OS

Now choose the option to add bates number on PDF documents or PDF file series

Add PDF files using Add Files / Add Folder option

Now choose desired bates stamping option and click on Next button

Select bates number position, formatting and required file naming options. Click on Browse button to select the location to save resultant file and click on Next button

Preview your PDF document in PDF Viewer and finally click on Generate button to start inserting bates number a PDF file.
How PDF Bates Stamping Software is Helpful to Users?
Provides easy to follow steps for both technical and non-technical users

Allows to add page numbers to PDF file series without any problems

Batch option to insert bates stamping to unlimited PDF documents in single processing

Successfully place page numbers to encrypted PDF files by first decrypting them

Allows to put page numbers in customized manner

Add additional information to the PDF file along with page number

Option to put current date is provided to help users insert current date to PDF files

Supports all Windows (32bit and 64bit) OS – 10, 8.1, 8, 7 etc.
Conclusion
Now days, the need for bates stamping a PDF file is on the rise and every second user is searching for an effective solution for the same. So, we have provided two methods, manual method or professional utility, to help them resolve their issues. They can choose any one option, depending on their requirements. With expert utility, users also get the option to try its working process with its FREE demo edition that even allows them to add page numbers to first 5 pages of selected PDF files, absolutely free. Once getting desired results with the free demo, they can go for the licensed edition of the PDF Bates Stamping software.
Previous Post
Next Post