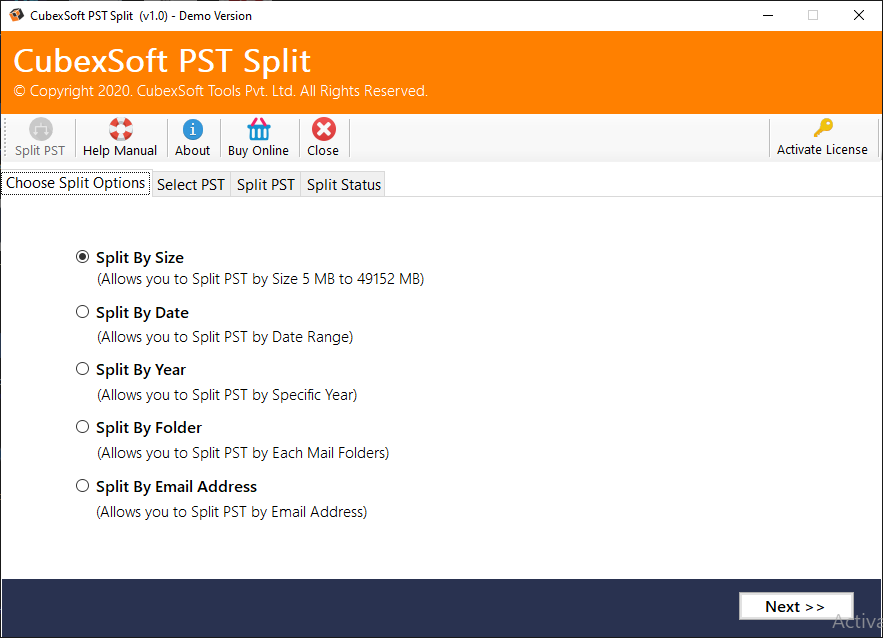 How to Split a Big PST File Outlook 2019/2016/2013?
PST is Personal Storage Table. It is an Outlook data file that stores the entire database items of Outlook user such as emails, calendar, contacts, tasks, journals, notes etc. PST files are of two types i.e. ANSI PST and UNICODE PST. ANSI PST used in Outlook 97 to 2000 and UNICODE PST used in Outlook 2003 to Outlook 2019. Different Outlook versions offers different file size limitations such as in Outlook 2013 and above versions, the size limit has gone up to 50 GB.
Why to Split a Big PST File?
There are many reasons behind why to split a big PST file. Some of the main reasons given below:
Large PST file slows down the Outlook performance.

Users unable to send/receive new email messages.

Possibility of data loss and data corruption due to oversized PST.
Apart from this, there are many other factors due to which numerous users want a way out to split a big/oversized Outlook PST file. However, in the further section, multiple solutions discussed one is manual which is free to access and another is professional i.e. PST Split, a recommended way to split a big PST file in a precise and effective way.
Splitting a Big Outlook PST File Manually
There are multiple manual approaches available that can help to split large PST file. Before discussing the manual steps, ensure to keep a backup of PST file in case if any unexpected situation occurs.
Method 1. Archive Feature to Split a Big PST File
Follow the mentioned steps for splitting oversized PST file by utilizing Archive feature:
Open MS Outlook email program.

Move to File, go to Info, hit Tools and select Clean Up Old Items.

Choose desired folder to archive, select date in Archive items older than and press Browse to save archive file at specified location.

Press OK to finish the process.
Method 2. Import/Export Option to Split a Big PST File
Follow the steps to split a big PST file using Import/Export Wizard:
Open Outlook, move to File, click Account Settings and select Account Settings

From Account Settings Wizard, hit Add option displaying under Data Files option.

Provide file name and type Outlook Data File (.pst). Press OK to continue.

Now, new PST file created, view new PST in Data Files.

Again, navigate to File, click Open & Export and select Import/Export.

From Import/Export Wizard, select option of Export to a File and hit Next.

Choose Outlook Data File (.pst) option from Export to a File Window.

Select desired folder to export and select Include Subfolders option.

Press Browse button, select location to save file exported. Select Do not export duplicate option from the choices appearing and click Finish.
Method 3. Move to Folder Option to Split a Big PST File
Follow the steps of Move to Folder option and split a big PST file into multiple PST:
Open Outlook program, move to File, click Account Settings and choose Account Settings.

Go to Data Files, press Add button to build new PST file.

From Home screen, open default PST and choose items to move into new PST.

To do the same, click Move button from top and choose Copy to Folder option.

From copy the selected items to the folder option, select PST and press OK.
The processes discussed are completely free of cost and implementable. The professionals can use the application but the methods has some drawbacks:
Consumes time and efforts of users.

High chances of data loss during the process.

Requires lot of technical knowledge.

Possibility of data alteration.
Thus, many experts recommend to use a solution that is reliable and secure and guarantees data accuracy.
PST Split Tool to Split a Big PST File Directly
To split a big PST file in a bulk without data alteration, one can make use of professional, secure and cost-effective solution i.e. PST Split. The application is easy and built-up as per user demand. Both technical and non-technical user can use the software to split large PST file into multiple parts. The tool provides flexibility to split PST file in different ways. When a user launch the software, the main screen will show multiple options to split PST file i.e. Split PST file by Size, Year, Date, Email Address and Folder. A user can opt the required option and split a big PST file as per need. Every Split option equipped with different options that a user can apply accordingly to split PST file.
In order to know complete details and working of the tool, try the free demo version with the help of which one can check how to split large PST file into smaller parts before purchasing the license key. The freeware edition allows to split first 25 files per item free of cost.
Conclusion:
The blog mentioned multiple approaches to split a big PST file. One is manual method and another is third party reliable PST Split solution. If you are technically sound user and know every small technicality of Outlook app, then you can try the manual method. In case, you are having large files that are crucial and do not know much about the email client, then it is suggested to definitely use professional utility.
Previous Post
Next Post