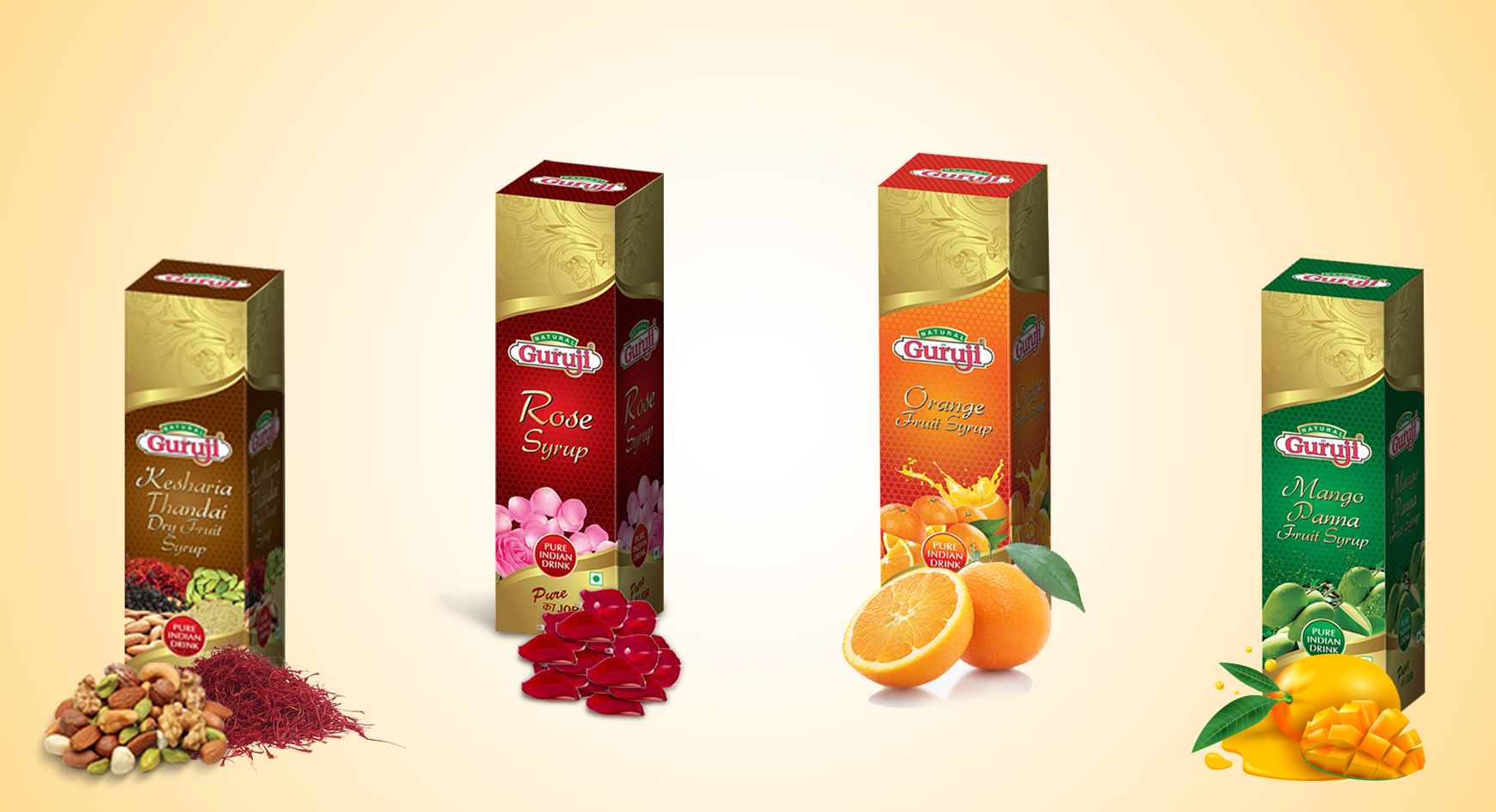 14 Syrups by Guruji Thandai & Sharbat and Where can you find Guruji Thandai in Delhi-NCR?
Jai Guruji Thandai & Sharbat was established by late Shri Jagdish Prasad Haridwal in the year 1965 in Kolkata. It was later taken over by his legal heir, Mr. Bal Mukund Sharma. Mr. Bal Mukund Sharma, born at Kolkata and brought up in Ramgarh, Rajasthan. He is accredited with the creation of his empire with an experience of 50 years.
The aim behind Jai Guruji thandai has always been about celebrating the taste of India, its culture, religion, and unique ethnicity. Following the age-old tradition of beginning every occasion with something 'meetha', Jai Guruji thandai has been upholding this tradition since its inception.
Every product from the house of Jai Guruji has been made with absolut4e love and care besides being made with wholesome natural ingredients, and zero preservatives. No wonder, thandai and sharbat from Jai Guruji are loved all over India!
The most loved and enjoyed flavours are: Kesharia Thandai Dry Fruit Syrup, Badam Keshar Dry Fruit Syrup, Rose Syrup, Khus Syrup, Litchi Fruit Squash, Orange Fruit Syrup, Pineapple Fruit Syrup, Mango Panna Fruit Syrup, Lemon Fruit Squash, Brahmi Badam Dry Fruit Syrup, Jeera Syrup, Ripe Mango Fruit Syrup, Masala Shikanji Syrup, and Strawberry Fruit Syrup.
Each syrup and thandai comes with an authentic taste, natural ingredients and top quality. The reason being Jai Guruji remains in the heads and hearts of all customers for a lifetime!
Jai Guruji thandai and Sharbat is available in various stores all over Delhi-NCR, including North, South, East and West Delhi. You can buy Jai Guruji thandai and Sharbat at an/a
Easy Day
Big Bazaar
Reliance Fresh
Reliance Mart
More
Metro wholesale
Hypercity fresh
near you.
14 Syrups by Guruji Thandai & Sharbat
Kesharia Thandai Dry Fruit Syrup - Guruji Kesharia Thandai is an amazingly balanced blend of superior quality Kesar, almond, cardamom, black pepper, rose water, khus-khus and magaj. This syrup not only leaves you with a pleasantly cool feeling but also provides vital nutrients and energy to the body.
Badam Keshar Dry Fruit Syrup - Badam Sharbat from the house of Guruji has been a popular drink in India for a long time. Filled with the sparkle and energy of fresh almonds, this ready-to-drink Badam Sharbat offers natural vigour resulting in coolness. Enjoy this lovely drink either with hot milk or cold milk.
Rose Syrup - Made from pure indigenous roses, Guruji Rose Syrup is prepared from the distillation of delicate and beautiful rose petals. A natural cure for acidity, it also purifies the blood and offers glow and fairness to the skin.
Khus Syrup - Guruji Khus Sharbat is produced from top-quality roots of Khus using the drops of refined Khus via pure traditional methods. The quality ingredients of the drink offer coolness during summers and bring respite from the scorching heat.
Litchi Fruit Squash - Get the real taste of litchi in every sip of Guruji Litchi Squash. Drink it with water or milk, whichever way you like and get refreshed by the taste of this wonderful fruit.
Orange Fruit Syrup - Get a splash of juicy oranges with Guruji Orange Fruit Syrup. Filled with the richness of Calcium and Vitamins A, B, and C, it offers protection to the body. Presence of vital ingredients like Sodium, Potassium, Magnesium, Copper, Sulphur and Chlorine make the body resistant to infections.
Pineapple Fruit Syrup - Pineapple Fruit Syrup from Guruji is a powerhouse of energy. Its unique rich taste nourishes the body and removes fatigue. The enzymes present in the syrup replenish the worn-out tissues and enhance digestion. Its constant consumption keeps you energized.
Mango Panna Fruit Syrup - We all know that Mango Panna is an age-old traditional remedy to fight the summer heat. Since Mango Panna from Guruji is prepared from the skin of excellent quality raw mangoes, it contains the natural essence and vitamins of mango.
Lemon Fruit Squash - Guruji lemon Squash is enriched with Vitamin C, black pepper and other useful spices. Enjoy this refreshing drink with either water or soda, for added flavour.
Brahmi Badam Dry Fruit Syrup - Top quality almonds are selected to make Guruji Brahmi Badam Dry Fruit Syrup. Inclusion of rose water and jari-booti further enhance its taste and quality. Its regular consumption cures the deficiencies of protein, calcium, phosphorus, iron and vitamins.
Jeera Syrup - Guruji Jeera Syrup offers protection from the intense summer heat and lends strength to fight with it. Packed with vital ingredients like lemon, Jeera concentrate and healthy salts, this drink provides nourishment of the essential protein and vitamins.
Ripe Mango Fruit Syrup -Made from the king of all fruits, Mango, this syrup is enormously loved by one and all. Let your taste buds enjoy the superb flavour of ripe, juicy mangoes with this syrup.
Masala Shikanji Syrup - Masala Shikanji Syrup is one of the most favoured drinks in India. Packed with useful substances like mint, lemon, salt and jeera, this drink from Guruji keeps you charged all the time.
Strawberry Fruit Syrup - Taste the finest quality Strawberries and build your immune system. Rich in Vitamin A, this syrup prevents attacks of cold and sinusitis and also the premature wrinkling of the skin. Guruji Strawberry Fruit Syrup can be prepared in water also.
Previous Post
Next Post