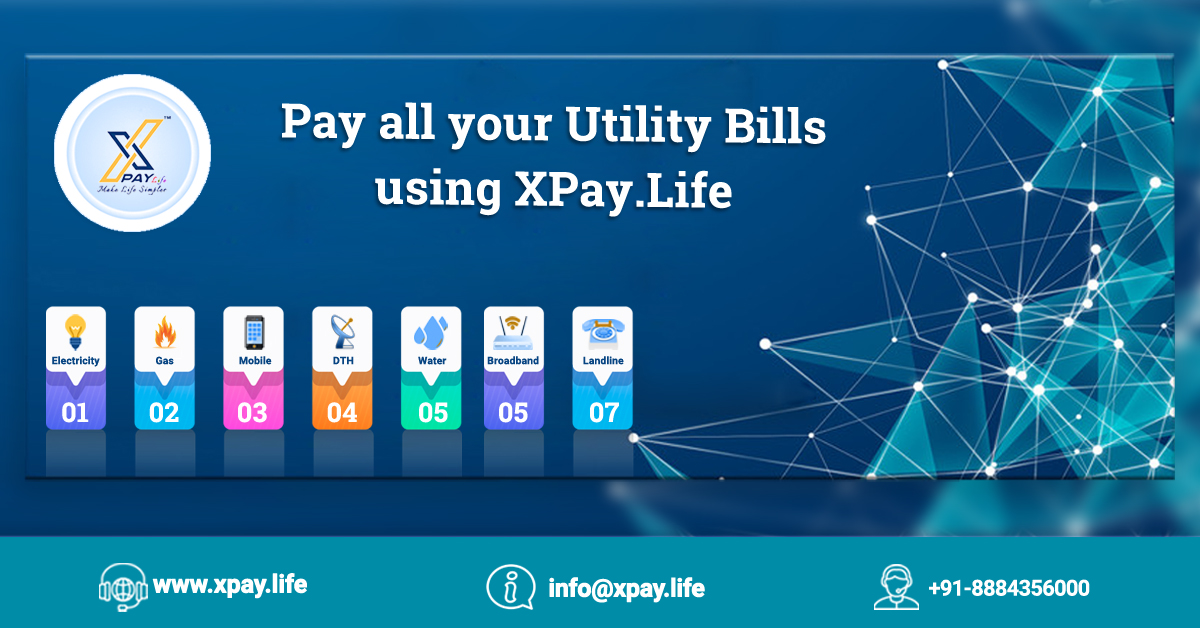 Now pay your utility bills online effortlessly
Advancement in technology has become global now. Perhaps, there is no sector where it does not manifest itself. It has given us the precious opportunity to be a witness to its incredible discoveries and inventions. Actually, we are, all the time, surrounded by its unbelievable wonders. We can see examples at our home only. We are using electrical devices like air conditioner, refrigerator, generator, fan, washing machine etc. and electronic devices such as smartphones, tablets, laptops etc. All these are nothing but commendable creations of technology.
After making our lives pleasurable with the offline mechanisms, technology has started amusing us with its various online contrivances. Now, we can shop right from the comfort of our home using online shopping websites like Amazon, Snapdeal, Flipkart etc. We can even buy food items through Bigbasket app which delivers the items at home. Moreover, the digital payment methods such as Debit and Credit cards, Visa, Rupay and MasterCards have given us freedom from carrying a lot of cash with us. The online bill payment apps also provide comfort to our lives which help us to pay our utility bills in a snap without visiting the respective premises physically. This is a big help. Isn't it?
Now-a-day, everyone is busy doing a lot of works every day. But, paying utility bills on time is a task which cannot be avoided at any cost as our lives have become simpler because of the various services only. If we will not pay our bills, it will lead to the interruption of them which we cannot afford. But, often, we are unable to visit the offices due to heavy workload and even if we are able to visit, standing in a long queue causing your legs to ache and waiting for your turn are not something we crave for. So, what is the solution? We are here with the best solution for you. Just pick up your smartphone and download XPay.Life app from Google play store or App store and make use of it.
XPay.Life offers a full spectrum of Utility Bill Payment online through Touch Screen Kiosk, Web and Mobile App for iOS and Android. Using this payment gateway, utility bill payment can be done through Touch Screen Kiosk also where cash payment along with digital payment channels like UPI, Debit and Credit Card, Net Banking, and Wallets are accepted as well.
XPay.Life offers the easiest platform for all postpaid bill payments. The users just need to follow some simple steps to get it done. Using XPay.Life mobile app, we can pay all our major bills anytime and from anywhere we want.
With broadband capturing attention as the best internet service provider, XPay.Life app caters to the need to clear the broadband postpaid bill payment online in a snap saving us from the offline hustles and bustles. We can pay the bill within a few seconds using this online payment gateway and save our precious time from being wasted in the long queues and also utilize it in some other important and productive works.
The love and attention gained by the mobile phones have definitely decreased the usage of landlines. But it has not extinguished completely till now. It is still able to hold its grip at offices, homes and stores. But to avail the service we have to pay the bill on time. XPay.Life introduces the most convenient way to make landline postpaid bill payment online through the mobile app just by following a few effortless steps including selecting operator, mode of payment and clicking 'pay now' button to complete the transaction. Can it be easier than this?
Water being the most important element after air demands much attention to keep the service uninterrupted. XPay.Life mobile app, along with the above mentioned services, provides a suitable stage to clear Water Bill Payment Online as well without any trouble.
With the same ease, we can complete Online Gas Bill Payment using this portal. XPay.Life provides service for all the major operators across the country.
Isn't it the service you are looking for? This app takes away all your pain of going through the exhausting offline bill payment processes and make you relaxed. So, do not waste your time. Quickly download this app and explore through its features. Hurry up! The best service ever is knocking at your door.
Know More information Visit: https://www.xpay.life
Previous Post
Next Post