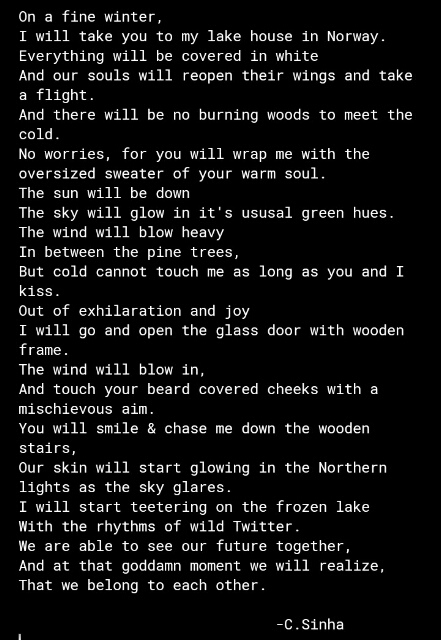 Lake house in Norway : Poem of love
"Two souls becoming one under the northern lights"
I will take you to my lake house in Norway,
Everything will be covered in White And our Souls will reopen their wings and take a Flight.
And there will be no burning woods to meet the Cold,
No Worries, for You will wrap me with the Oversized Sweater of your warm Soul.
The Sky will glow in it's usual green hues.
The Wind will blow Heavy , In between the Pine Trees,
But Cold can not touch me long as you and I kiss.
Out of Exhilaration and Joy,
I will go and open the glass door with wooden frame.
And Touch your beard covered cheeks with mischievous aim.
You will smile & chase me down the wooden stairs,
Our Skin will start glowing in Northern lights as the sky glares.
I will start teetering on the Frozen lake with the rhythms of wild Twitter.
We are able to see our future together,
And at that gaddamn moment we will realize,That we belong to each other.
-C Sinha
Previous Post
Next Post