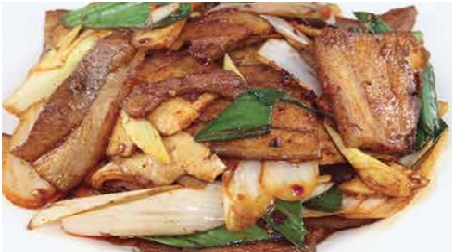 Top 10 Chinese Foods Demanded in World
10 MOST DEMANDED CHINESE FOODS IN THE WORLD
When we want choose among numbers of Chinese foods then it is better to have an idea about the 10 most demanded Chinese foods in the world. Chinese food is very much in demand now because of it's variety and deliciousness. It gives a rich cultural experience if you try these dishes with the chopsticks. The use of different ingredients and unique style of cooking makes it more demanding. Chinese food has international presence and it is being added to the main course of the functions and parties now.
Chinese culture from it's origin is very rich. Chinese people follow their culture and trend religiously. And it hardly matters wherever they go and get settled they cook their food and recipes just the way it was first cooked. Initially, world was introduced with the starters or we can say fast food of China. Which became trendy and people started loving the food very much as it is easy to cook and some of the fast food items have great potential to feed your stomach well to fulfill the hunger.
In this article we are going to discuss about the most famous top 10 Chinese foods and it's detailed recipes with specific participation of the ingredients.
Top Listed Chinese Foods:

Chow Mein:

Unlike the other continental noodles. Chow Mein is a very unique kind of dish and is loved by each and everyone in the world. As the noodles used in this dish are thin and blended with the rich veggies. The hidden surprises in this dish are the main attractions. Chow Mein is well complimented with the different types of sauces and cooking wine.
Chinese Fried Rice:

Chinese fried rice is a very famous dish and is demanded by on and all. The process of cooking it is half pre-cooked and half instant cook. That is why it is made easily available within a few minutes. It tastes delicious and this Chinese dish can be ordered repeatedly. Fried rice can be jammed with any other liquid dish.
Double Cooked Pork:

This dish is very rich in taste and aroma. It is loved by one and all. Double cooked pork is famous with a famous saying;"If you didn't have twice cooked pork then you have never been to Szechuan". This dish is cooked two times in a process that is why it's name is kept after the process.
Fujian Red Wine Chicken:

It is one of the northern Chinese traditional foods. It is also known as dish for birthdays. This red wine chicken dish is cooked and served at the time of birthday celebrations as a traditional value. It is rich in taste and is very easy to cook. Most of the people like it because of it's aroma and as it is cooked in the presence of red wine so it tastes really amazing.

To Know Complete Ingredients & Recepies : Click Here
Chinese Dumplings:

Dumplings is a most famous dish in the northern part of China and it is mostly had by the Chinese on the eve of New Year and even throughout the year. But it has it's place among different places in the world. Dumplings are the buns stuffed in with chicken or vegetables. It is baked on steam and is served with spicy sauces. In some of the Chinese functions it is added to the starter's menu.
Scallion Pancakes:

It is a very famous Chinese dish served on the streets as a street food and even it is also available in the restaurants. Scallion pancakes are also sold commercially by wrapping it in the plastic packages. There are different styles available in the world to cook this dish. Because it is fried in the pan and made of dough, it is made crispy and chewy at the same time.

To Know Complete Ingredients & Recepies : Click Here
Chinese Hot & Sour Soup:

Hot and Sour soup is famous from different continents but Chinese soup is most famous among all other soup varieties. Though this soup is made little spicy and it contains meat pieces and pork pieces, some-times pork blood is also mixed in the soup to give a thick taste to the soup. The soup is also made with vegetables for vegetarians.

To Know Complete Ingredients & Recepies : Click Here
Oyster Omelet:

This dish is famous for it's differentiated taste in all over the world. It is served with eggs, meat, chicken and sea food. It is different from other egg omelets. And it's tangy taste compels you to try it again with a different surprise of taste. One can experiment it with the use different ingredients.

To Know Complete Ingredients & Recepies : Click Here
Hainanese Chicken Rice:

This dish has it's origin from China but is famous in Singapore these days and it is also famous in the other parts of the Asian continents. The dish is named after a place in China. It is made of chicken and rice mix. It is now considered as a main course food in the world.
Chongqing Chicken:

Chongqing chicken is named after one of the places in China. The specialty of this dish is that it is cooked with real chilies. The chicken is cut in small cube sizes. The dish is very famous in China and other religions of the world. The fun element in the dish is that there are more numbers of chilies than the pieces of chicken.
The above mentioned 10 Chinese dishes are unique in their making style, taste and aroma. And these are made for different moods. So if, next time you want to eat some Chinese food or you want to taste something different then you can try these dishes at home or you can order them from the nearest Chinese restaurants. So, try it and enjoy the richness of Chinese continental foods.
Some More Food Related Articles :-
Previous Post
Next Post