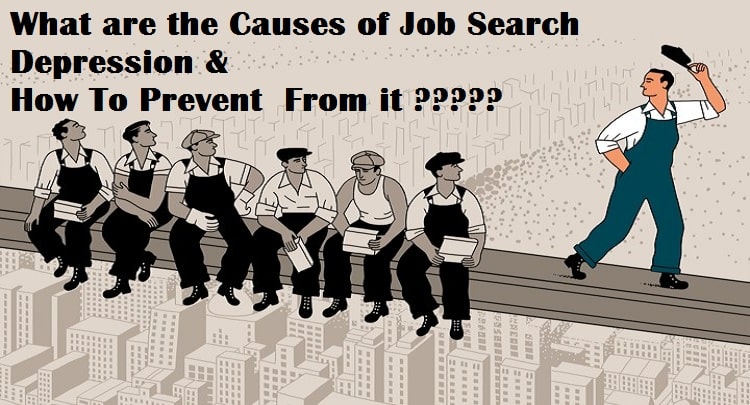 Causes Job Search Depression | How To Prevent it
How to overcome job search depression
Searching for a job is very stressful and difficult for every individual even if he is a newbie, an experienced person who isn't satisfied with his current job or a person who got recently fired and, is in search for a new job. Irrespective of the fact, how patient you are regarding the search for a job, it always gets frustrating when you are unable to find one or is taking more than the time you expected it to consume. It is declared in a study that, immediately after graduating or losing a job, a person experiences well-being and is at relief from a scheduled day which has to be kept in view to follow. However, after 10-12 weeks of staying jobless, a person starts to develop a sense of desperation to get some work and upon failing to find one; the person develops anxiety and usually slides into depression. Here you will get the idea on how to overcome job search depression during the time any person search for a job.
Causes of Job search depression
Here are a few causes of Job search depression which is experienced by an individual in search of a Job: -
A fresher in search of a job or a person who just lost his job can feel lots of pressure and generally goes through numerous mixed feelings and may lose control as well as lose hope and faith upon him. Seeing all his batch mates get placed in good companies with handsome packages or, losing the job which kept him going for years, can lead to a series of traumatic experience which often make a person lose composure.
When in a job hunt, the feeling which is constantly there in an individual is the sense of uncertainty. When will I get placed? Which company will help me end my job search? How will recruiters find my resume to be? What are the recruiters going to ask me? Will I get placed with a good package? These are among the few questions which haunt the person in search for a job and, answers to these entire questions are uncertain.
For an instance, we can say that receiving an acceptance for Job application can develop a sense of being accepted in an individual. That is, you get a platform to showcase your talent, and you expect people to recognize you through your talents and ability to do things. However, if you ever happen to lose your job and aren't able to find a new one, you start feeling unwanted and worthless and start feeling left out.
Being unemployed mean, losing your only means of livelihood. This is the greatest problem faced by people who solely depend on their earnings or have a family to look after. Even for fresher's who have a great amount of education loan to be paid off, face this problem. This can make a person feel helpless and often can drag him into depression with an increase in desperation to get a job.
Negativity developed from rejections
Believe me, there are more than 200 applications received when a job opening is advertised. It means there are many people competing to earn that position or offer and, few among them make it to the post. In other words, you will be competing with many people and there are high chances you will be rejected and, being rejected by many companies can make you less confident and fill you with negativity.
Suggestions to improve from Job search depression
Guide your mind to think positively
First suggesting would be to train your mind to work in a way which is positive. It's you, who has the ability to transform your mind and, your mind understands the way you make it to. There is no perfect time to search for a job. I repeat, now is the time to search for the job you wish to have. Year endings, year starts, midyear, irrespective of the time you are jobless, your hunt must start now.
The plan must start with making an eye-catching resume. The first thing a recruiter sees is the resume you send in with the application form and, in order to stand out of the crowd, you need to create an impressive resume. Think about all your accomplishments and put them up together in a neat way.
Develop networking skills
Developing networking is the way you present yourself or the way you dwell in with the people around you as well as the environment. Make sure you carry a confident personality and vibes which come from you must be appealing irrespective of, whether in an interview or elsewhere as strong networking can help you gain reference.
Conclusion
Job search is very difficult in actual, I agree! I also agree it's easy to put up words together and, to tell someone to do something, rather than actually doing it. But you cannot deny the fact that, what you make yourself to do is what gives you the ability and courage to attain it and hence, you must guide yourself thoroughly to be successful in your job search.
Some More Great Article to be Here :
Previous Post
Next Post