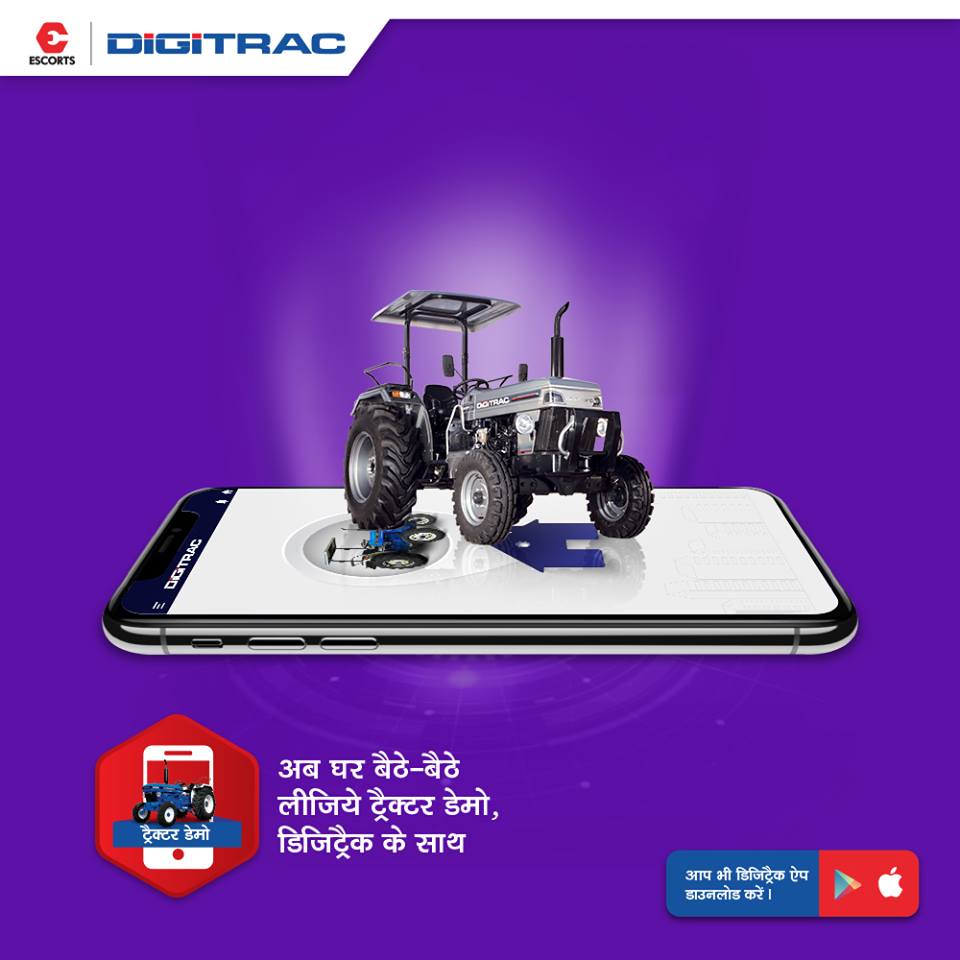 Doorstep Demo Of Tractor
The field of Information Technology has brought evolution in almost every aspect of our lives, be it personal, professional, social or anything for that matter. Further, the emergence and increasing usage of smartphones, laptop have taken things to another level entirely. As a result, you can get anything at your doorstep, sitting on your couch with just one click. Technology apps such as on-demand grocery delivery app, shopping apps, etc. are on the rise to bring an impact on the business world altogether.
Every company in today's technology paced environment are converting themselves into a digital form. Business firms have started adopting digital platforms to gather customers attention. The technology has changed almost everything around us and many companies have also undergone a remarkable transformation.
This definitely implies that we all are leaving behind the traditional ways to attract more customers and take businesses to new heights.
Since time immemorial, before products were promoted through video trailers, massive press conferences telling potential customers about what the products and services were all about, there were demos. This was promotional tool seemingly personalised for door-to-door salespersons, who would demonstrate the product while talking about its advantages and why one should choose their product over other competitors in the market.
However, in today's business scenario, promotional tactics have changed a lot. With big-budget movie trailers, placement in popular mainstream media, use of social media influencers, people are now more familiar with the product they wish to purchase.
Despite these surge in the information technology sectors that widely tempts customers to buy things online, there are some who still wants to have the touch and feel of the product. This is more common when it comes to slow-moving goods such as expensive mobile phones, laptop/PC, and greater long-term investments such as automotive vehicles. However, the key difference in each of these cases is that it is the consumer going physically to the store to get a feel for the product, and make the final decision of whether or not to purchase the product.
Here, although sales personnel do assist buyers while they inspect the product, they do not take it upon themselves to demonstrate the various aspects of the product. Consumers today are more apprehensive when buying a product which has greater long term investments. It's quite obvious why consumers are anxious regarding the purchase.
Especially when it comes to buying a tractor, the degree of consumer questioning various attributes and features increases. Why?
The agriculture sector is one in which half of India's population is engaged for a livelihood. This sector encounters multi-faceted challenges in terms of productivity. Astonishing advances over the years in the agricultural field has bestowed farmers with a valuable gift – Tractor. Gone are the days when farmers resorted to manual processes for improving their agricultural productivity. For better crop yields and to improve the growth of crops tractor is being widely used by farmers all over the world. Now, a tractor has become the most essential, desirable and long-term asset for farmers. It is used in a variety of agricultural tasks such as ploughing, tilling, planting, sowing, etc. A multitasker of course! This multitasking ability does wonders for the farmers.
Consumers can visit showrooms and can get sales personnel who can demonstrate the various specifications of the tractor. But sales personnel do not initate to demonstrate the other aspects of the product according to the needs of the consumer. They just intend to sell the higher-priced tractor even if it is not suitable to the consumer needs. This can result in buying a wrong tractor.
What about getting doorstep-demo of a tractor? Digitrac does offer that. Digitrac is India's first online tractor platform which is committed to simplifying every farmer's life. It is the one-stop solution for a farmer's every need. Farmers can get factory-fresh tractors with top-of-the-line features directly from the company at extremely affordable prices. Also, the 'ease' of owning a tractor from Digitrac doesn't end there. It also allows farmers to access a number of awesome tractor services such as purchase tractor on loan, online used tractor evaluation, 6-hour doorstep service, etc. Digitrac also provides farmers with information regarding their farmland, how to prevent their crops from being destroyed by insects, pesticides, weeds etc., as well as get them the best and the most accurate information about their region's Mandi Price in just a few clicks.
It actually allows potential buyers to get a full demonstration of their products at their own convenience, and right at their doorsteps. All one needs to do is download the app, schedule a demo through the app and the personnel from the company will come to their doorstep and demonstrate the all the features of the tractor to its fullest extent. So, all one need do is download the app and get access to the best tractors in India and view the full range of tractors for sale on Digitrac.
Previous Post
Next Post