Does Gmail Save Deleted Emails? Find the answer in the blog. Understand how long Gmail saves deleted emails. If not, what is the way out?
---
In this blog today, we will be answering the question – Does Gmail Save Deleted Emails?
We all have deleted our emails – accidentally or knowingly, but we have. And most of the users of Gmail get stressed and scared over how to get these emails back.
Once you have deleted your emails, they are moved to your Trash folder. The trash folder stored these emails for 30 days and these emails are then automatically removed from trash too.
You can retrieve your emails from the trash before 30 days only if you have manually deleted them.
In case, you have hard deleted your emails by pressing Shift + Delete simultaneously, there is no getting the mails back.
If your emails have been deleted from the trash as well, it is impossible to get them back.
Many of you may ask how long does Gmail save deleted emails. Here you will understand how you can retrieve your emails from the Trash folder before 30 days.
Also, find out how you can avoid getting into a situation for retrieving emails that you have lost even from the trash folder.
In addition, you will be learning how to retrieve these emails on your mobile phones as well. Everybody has the Gmail app for mobile downloaded to access their mails from anywhere.
Let's first move forward to the solution for retrieving your emails from the trash on the website.
Does Gmail Save Deleted Emails

– Solved for Gmail on Website
 You can retrieve your deleted emails from the Trash folder of Gmail by following the steps listed below:
Firstly, log in to your Gmail account and navigate to the panel on the left of your mailbox.

Click on the "More" option underneath the list of mailboxes.
Find the "Trash" folder from the menu and click on it.

Now, look for the emails you want to retrieve and open it.

You will find a row of icons under the search bar. Click on the third icon which is the "Move" button.
A drop-down menu will appear with a list. Select "Inbox" and move your emails from trash to your inbox.
Now, learn how you can recover emails from trash on your mobile.
How long does Gmail Save Deleted Emails? Retrieve Emails from Trash on Mobile
Since everybody has an application for Gmail downloaded on their smartphones, they can recover their deleted emails by following the steps as given:
Go to your Mobile app for Gmail and choose the "Menu" icon or the Three Horizontal Lines.
Scroll down until you find the "Bin/Trash" folder. Click on the "Bin" option.

Find the email you want to recover and open it.
Note: Your emails will only be visible if the emails have been deleted within the time period of a month. This is to make sure that you understand the query – Does Gmail Save Deleted Emails?
On the right side of your screen, you will find three dots "…". Click on the three dots and a menu will appear.
Choose the "Move to" option and a list will be opened.
From the list, click on the "Primary" option.
Your emails will be retrieved and moved to your inbox.
Now, this is possible only under the mentioned situation of the time duration. If not, if the emails are gone, there is no way to get the emails back to your mailbox. Although, the emails are saved on the Google server for 60 days but these cannot be recovered.  
To avoid getting into this situation, read the next section thoroughly for the best way out.
Perfect Solution to Answer How Long Does Gmail Save Deleted Emails?
As discussed above, you must have understood that the emails are not saved for a very long time in the trash after being deleted. This makes the situation a little more difficult for the users who do not have any knowledge on how to get the mails back. There may be some important emails along with attachments in the trash that are now gone forever.
The best way out of this situation is to take a backup of your mailbox. Nothing can be done for the emails that you have lost now but you can always be careful with future instances. Those users who are looking for answers to the question – Does Gmail save deleted emails? – can use this technique.
This method is the Gmail Backup Software for Mac that helps in backing up emails from your Gmail account with ease. This is a reliable and secure tool that is capable of downloading Gmail emails on Mac OS 10.8, 10.9, and older versions.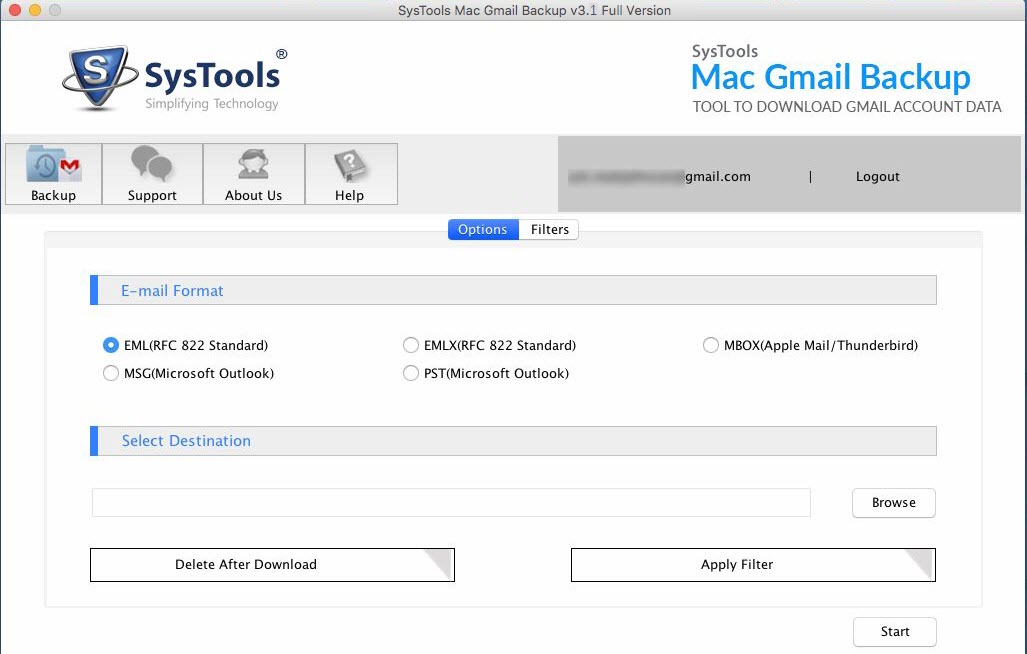 It exports Gmail emails in various file formats such as MBOX, PST, MSG, EMLX, and EML. Also, attachments that are associated with the emails can also be exported.
The data integrity and the structure of the folder are maintained while downloading the backup of your mailbox. You can choose to delete the emails that have been exported after downloading the data. This feature gives the benefits of regaining the server space.
Last Words
Once the emails are deleted, they end up in the trash. If they are gone from there as well, there is no point in looking for answers on how long does Gmail save deleted emails.
It is a high recommendation that you take a backup of your mailbox to always be able to access your Gmail emails. Because in such situations, you could incur heavy losses and that will only be due to a small accident.