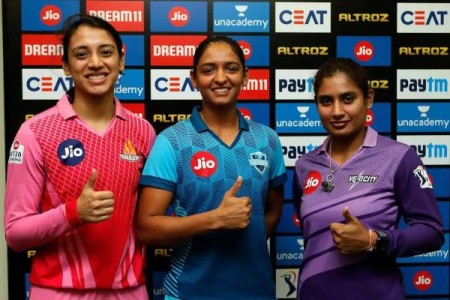 Heartfelt Snehal Pradhan Shares About Women's IPL Challenge
In a recent interview, one-time Indian Cricketer Snehal Pradhan talked about the third edition of IPL Women's T20 Challenge. She shared her thoughts with the audience.
She started her conversation by talking about how important it is for her to pronounce names properly. Snehal said I have worked as a commentator with a lot of media houses including foreign media. They always pronounce my name in a weird manner like "Snay-haal", "Sné-hull" and a lot more. I always gain the courage to correct the other person and ask them to repeat my name after me. She further continued by saying it's important to pronounce names properly rather it's me or someone else. I ask them to repeat it's the IPL Women's T20 challenge, not the Women's IPL.
T20 is a commercial experiment, it began with 2 teams and 1 match. Last year it grew to 3 teams and 4 matches. The response that we received from the audience was very good. There was a high viewership number, the stadiums were filled and people enjoyed the matches.
This year it was announced that there will be 4 teams, but then corona hit and now there will be 3 teams again. After crossing this stage, we are back at it again. There was news that women's matches will be paused for a year. In 2016, the Pro Kabaddi League started with 3 teams, the response they received from the audience was positive. They further announced that there will be a complete Women's kabaddi League.
ALSO READ: SURAJ PE MANGAL BHARI SET FOR THEATRICAL RELEASE, CINEMAS IN MAHARASTRA OPEN TODAY
The Women's IPL is speculation for now. We don't know when this will happen. We don't know how many teams will play in the future. This is very disappointing and painful.
We must celebrate the growth and fact of playing IPL Women's T20 Challenge. Sharing the clips on social media where Mithali Raj is having a team conversation. Players showcasing their Hindi language skills, and a lot more. One thing I am confident about is that the quality of cricket will increase.
She further stated that we should not forget that IPL Women's is not in existence yet. Talent is there we have Women who are leading cricket. High profile cricketers who have talked about the women players. But still, we don't have any Women's IPL for now.
I have recently come across a report related to Women's cricket. The report was based on a survey of 350 domestic women's cricketers. It was asked that there should be an IPL Women's connected to the men's franchise. There were positive responses where people polled for yes, but there was an audience who answered that there should be a separate IPL Women's team. I disagree with this suggestion because there will be more growth when both men and women will play in the same team instead of separately.
ALSO READ: GAUAHAR KHAN SAID YES TO ZAID DARBAR, ENGAGEMENT PICS OUT
There is only one independent sponsor for women's cricket that is JIO. The clause is still not familiar to anyone, but this is happening for the first time.
We should enjoy the Women's IPL challenge and gather the courage to ask for the correct sort of it.
Previous Post
Next Post