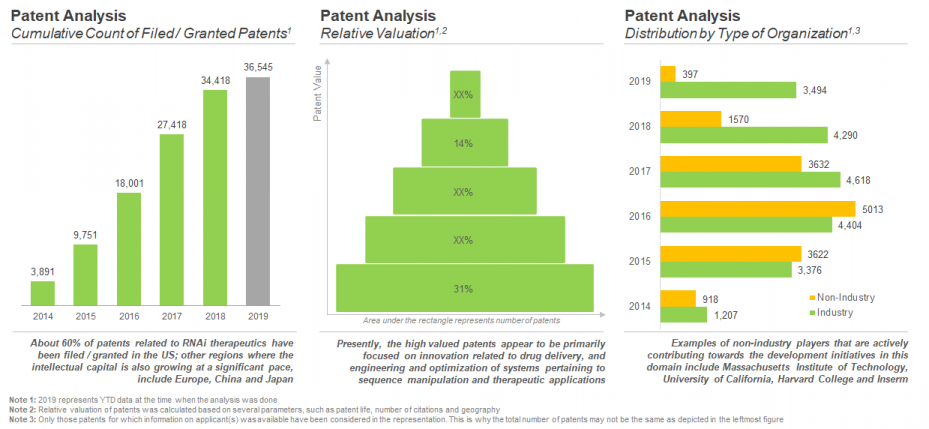 RNAi Therapeutics Market - Status Filed / Granted Patents
Over the past decade, industry stakeholders have been extensively working towards improving the treatment options related to RNAi therapeutics. Most of the innovations in this domain have been focused on developing drugs for the treatment of various indications, including rare disorders, and   developing innovative delivery technologies to ensure the proper delivery of RNAi therapeutics. As a result, a number of patents have been filed to protect the novel intellectual capital generated within this domain.
There has been a continuous increase in the number of patents filed / granted related to RNAi therapeutics. This can be attributed to the incessant efforts in R&D that are being made to improve the design and methods of developments for RNAi therapeutics. It is further worth highlighting that, from 2015 to 2017, more than 5,500 patents were filed each year, however, recently in 2018, a decline was observed in the number of patents being filed. Further, in 2019 (till March) a total of 2,127 patents were published worldwide.
Majority of the patents (59.6%) were filed / granted in North America followed by Asia-Pacific (13.7%) and Europe (5.6%). Further, it is worth mentioning that 21.1% of the total patent applications (7,719) were submitted to the WIPO; these submissions were received from all over the world. 
Despite the large number of patents that have been filed recently (and hence having a long remaining patent life), only 5% of the total patents have the highest relative valuation. This is primarily due to the relatively low citations associated with most of the other patents, leading to low patent value.
The number of patents filed by non-industry players has increased from 397 patents in 2014 to 15,152 patents by 2018, with a CAGR of 83%; on the other hand, the patents filed by industry players have increased from 3,494 to 21,389 in the given time period, with a CAGR of 35%. Further, an in-depth analysis revealed that since this is an emerging domain, contributions by non-industry players are mainly focused on research and development, while industry players are more focused on developing RNAi based drugs and delivery technologies in order to accelerate the RNAi therapeutics market. With increase in the number of research initiatives being undertaken, we believe that collaborations between non-industry and industry players can result in the development of RNAi therapeutics.
Previous Post
Next Post