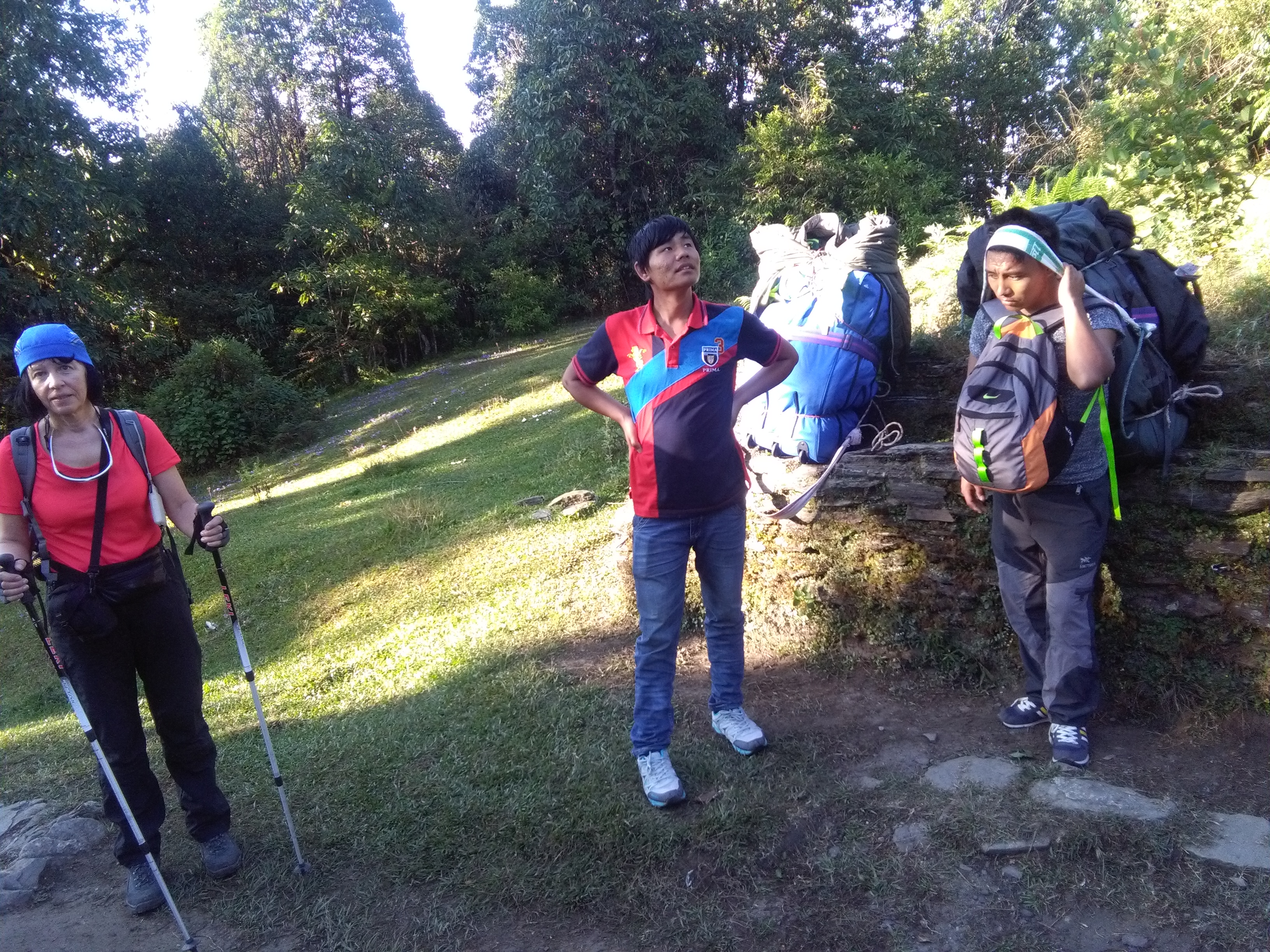 Nepal Porter and Nepali Guide hiring in Nepal but how?
Nepal Porter is known as a paradise for hikers it is necessary to rent at least one trekking tour guide in Nepal before trekking tours in the Himalayas. We are the local adventure guide /agency Nepal offers trekking guides, tour guides, mountain guides, sherpa guide according to the requirements guest. All mountain guides and Sherpa have trained many years of experience in Himalayans and the surrounding mountains.
Our main goal is to provide experienced Sherpa trekking tour guides in Nepal, our trekking guides can all speak English holding license have knowledge of altitude sickness and first aid as well. Adventure Guide have good knowledge of the Himalayan region and almost trekking destination Nepal.
To provide your Nepal trip comfort and unforgettable, agency arrange Nepal porter and Nepali Guide trekking guides.
We offer very experience Guide also at your request in first come first Service Basic. Banning independent trekking in Nepal, trekking with freelance guidance is also not very safe quite cheap, but dangerous.
Every year, travelers in the Himalayas are missing during trekking period those who are without guides and porters, individual travelers still trekking in Nepal at their own risk hikes. We offer you cheap and best trekking packages as well as guide porter setting, TIMS, permit arrangement basic trekking service in Himalaya Nepal.
Trekking Guide for rent for single (solo / individual) hiking hut: Euro 25 per day (inclusive TAX)
Trekking Guide for rent for groups from 2 to 4 trekkers: Euro 22 per day (inclusive TAX )
Trekking Guide for rent for groups of 5 or more trekkers: Euro 27 per day (inclusive TAX)
rent each trekking luggage rack (Everest area) (Max. 24 kg: 2 guests): Euro 18 per day (inclusive TAX)
each trekking luggage rack cost (Other area) (Max. 24 kg: 2 guests): Euro 20 per day (inclusive TAX)
Costs include for Nepal Porter and Nepali Guide
– Daily salary of the guide or porter.
– All meals & accommodation guide or porter.
– Insurance & investments of the Guide or Porter.
– Service cost & All valid taxes in the recruitment policy.
When trek in Nepal?
In Nepal you can be travel from January to May and from August to December. June and July months are rainy months in Nepal.
Trekking guide and Porter have licence?
Yes of course they have Trekking Guide licence. They most have Trekking knowledge , that's why they are very experience, flexible and professional for Nepal Himalayas.
Porter and Trekking have Insurance?
Sure they have Insurance by an Agency for their safety. Insurance is most important when you travel.
We provide porter an Guide for Everest Region Trekking,Manaslu Trekking Region,Langtang Trekking region,Kanchenjunga Trekking region, Mustang Trekking region, Dolpo Trekking Region, Rolwaling Trekking region, Makalu Trekking Region, Annapurna Trekking region in Nepal.
Incase of emergency what to do when you travel?
When you hire Trekking guide or Nepal Porter by Nepal Government registered Trekking Company, Company can easily rescue you and your Porter and Guide.That's we recommend you hire your Trekking porter or Guide in Nepal by Trekking company for your safety.Trekking Agency has very connection with any of travel agency , flight connection, Heli and Hotel. They can anyhow rescue on time as your requirement. so we would like to suggest you do not hire porter or guide individual is not safety for you and for your Trekking Guide and porter. The most important part is safery for your Travel.Agency is highly recommend for hiring your porter and Guide in Nepal for all Trekking regions, Peak climbing etc.As well Agency can issue your Trekking permit, Hotel booking and Heli, Vehicle etc.
Enjoy Your Travel with Porter and guide in Nepal by an Agency.
Previous Post
Next Post