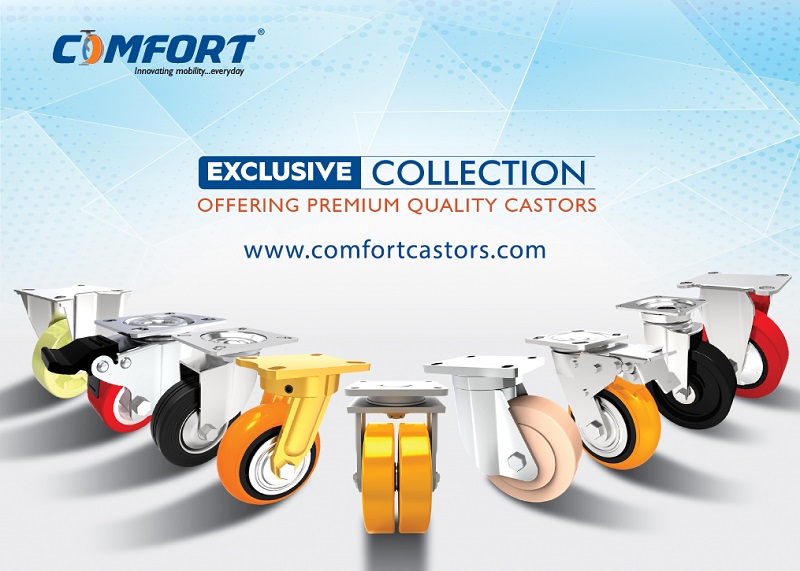 Caster Wheels Manufacturing in India | Caster Wheels in India
Comfort Castors, a leading caster wheel manufacturers in India offer double-sealed precision ball bearings. Manufacturing of such bearings brought a revolutionary change in the industry and heavily affected machine ergonomics and maintenance.
Each type of high temperature castor wheels has slightly different properties, generally speaking, and in the case of Comfort Castors (A Unit of Royal Tech Engineers) there are different types of high temperature castor wheels suitable for the food industry. When using swivel castors it is also important that high temperature grease is used to lubricate the bearings and swivel head to ensure wear of the bearings is controlled to a minimum.
Apart from temperature, food handling equipment has to endure continuous day to day heavy use and heavy loads applied to them. Equipment may be pushed and pulled around different areas of the production line, having food and goods added and removed throughout the process. This may be a 24 hour production facility where the castors and equipment are used to their extreme. Food industry castor wheels must therefore be carefully selected considering the environment and demand of the wheels.
Source: Factors to Consider While Buying Caster Wheels!
Comfort Castors Manufacture of best quality castor and trolley wheels, heavy-duty trolley wheels, castor trolley wheels, conveying trolley wheels, castor, and trolley wheels. We have emerged as the renowned exporter of the same. The precision-made range of products offered by us includes heavy-duty wheels, light duty wheels, spare wheels, and steel castors. The range offered by us has created a reputation of its own in the market. Our assortment is well known because of its features like durability, dimensional accuracy, load capacity, and impact strength.
-> 1000+ Varieties of Castor Wheels
-> 2 Million Castors Sold per annum
-> 500+ Clients Served With Solutions
Quality Management is not a trend but a tradition for us!
Castors for a Wide Range of Industries
By way of its research & development knowledge base, flexibility in customization, efficient manufacturing, warehouse inventory, trained staff, and strong distributor network, Comfort Castors is ideally positioned to supply products in general manufacturing, material handling companies, waste services, the moving industry, fixture design and fabrication, woodworking and furnishing suppliers, ornamental and hardware manufacturers — for most industrial and institutional operations.
With the proper industrial castor wheels, operations can increase productivity and create a safer, work-friendly environment. When you have big jobs, industrial castor wheels are available in many durable materials for the toughest jobs on the planet. In the case of your rolling equipment needs, the right heavy duty industrial castor and wheel combination are the essential elements for easy movement, heavy loads, and superior transport. Comfort Castors (A Unit of Royal Tech Engineers) is a leading manufacturer of heavy duty industrial castors that boast impressive strength and durability in a range of heavy-duty applications.
When you select a castor manufacturer that's been in the industry for over a century, you can pretty much count on quality parts and service. That's Comfort Castors for you. The current demand for precision heavy duty castors and components is steadily increasing and when you find the best heavy duty castors and equipment to fulfill your needs, operational productivity thrives.
Contact Comfort Castors (A Unit of Royal Tech Engineers), the leading manufacturer of industrial castors in India. We undertake innovative manufacturing of a plethora of castor wheels such as furniture castors, heavy-duty industrial casters, construction castors, automotive castors, rubber castors and many more.
More Articles Here:
-> What You Should Consider While Choosing a Caster Wheel Manufacturer?
-> A Complete Buying Guide for Caster Wheel Replacement!
-> How would you know when to replace caster wheels?
-> Where is maintenance-free caster wheels required?
-> The Advantages of Polyutherane Castors!
I hope this article helped you. If you liked this article, then please consider sharing it with your friends and leaving a comment below.
Previous Post
Next Post