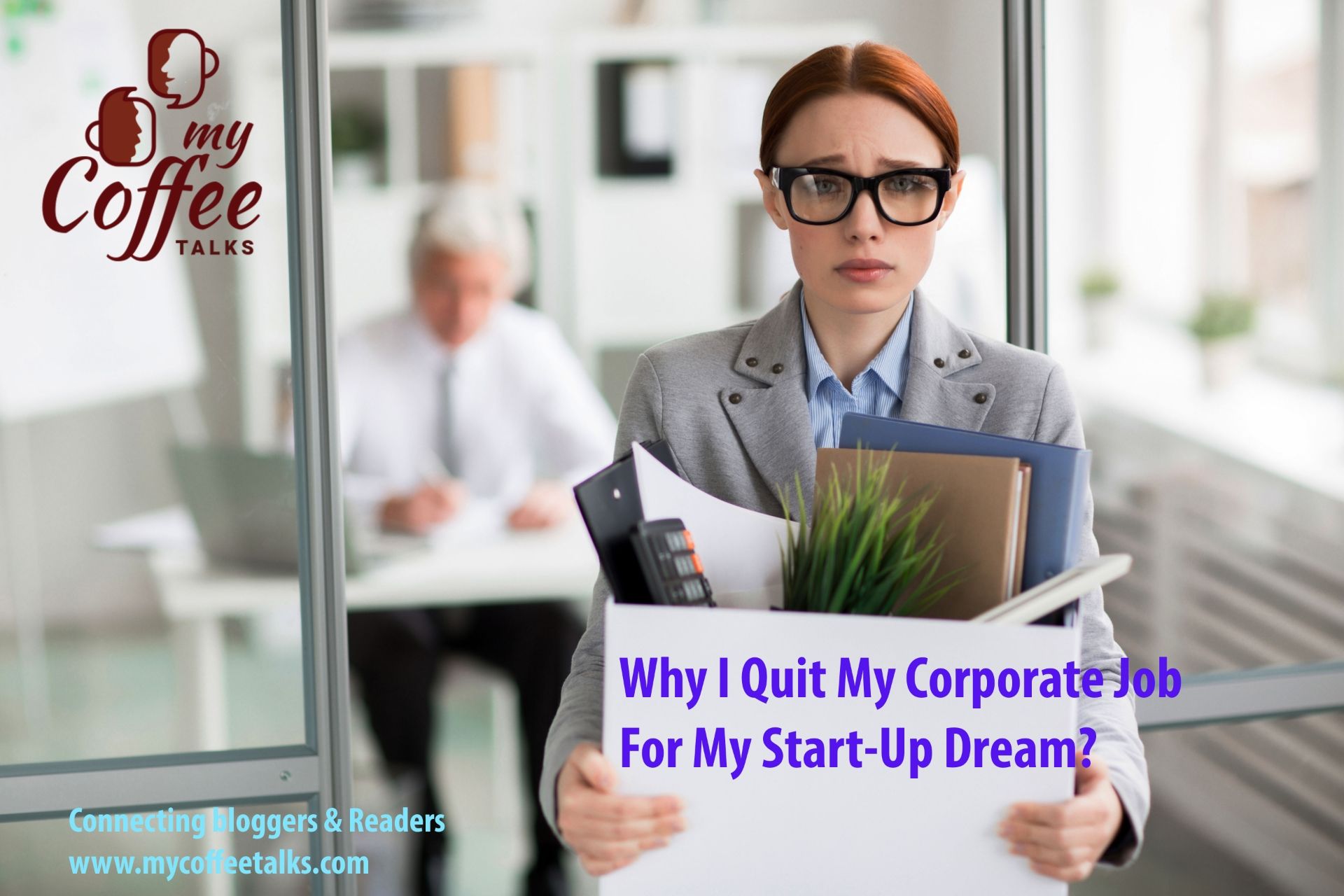 Why I Quit My Corporate Job For My Start-Up Dream?
Why I Quit My Corporate Job For My Start-Up Dream?
Are you tired of your current job, low pay, egoistic manager, and your life at the moment? If the answer is yes, then you have come to the right place. In this post, I will tell you why I quit my corporate job and began my start-up.
However, you might want to be warned; life is not a bed of roses. When you have decided enough is enough, then you ought to be ready to come out of your comfort zone and make changes in your life.
The term self-employed is gaining prominence in the last few years. Many workers feel that they can contribute in some way or the other, even working from home. Thanks to the internet that it is possible.
Why should you quit your corporate job?
All you need is a quality PC or laptop along with a fast and reliable internet connection; you are good to go. It has the potential to change your life for the best. For some of you, the concept of entrepreneurship sounds scary; it does not always have to be that way.
Life itself is a risk. When you are not willing to put in the time or effort to take calculated risks along with the way, then that itself is the most significant risk. It is something like the butterfly coming out of the skin when it is newly born.
Unless it struggles to come outside from the skin that is covering it, the butterfly cannot fly forever. It is the same here. When you are getting into a business, it is like taking an unknown path of darkness.
Benefits of becoming an entrepreneur
With too many risks and very little security to cushion you, there is nowhere to go. At the same time, it also has the ability to improve your life. The most significant advantage I noticed the day I quit my job was that I was a free bird.
I could do what I want and please. There is nobody to control or bother me. Imagine, you come back to your home after putting in 12 hours, only for your manager to call you, with the news of software error.
You have to sit throughout the night, rectifying it, and again go for work at 8 am. It is unrealistic. Not to mention, the physical and emotional damage that it does to you. Even youngsters as young as 24 years are feeling the heat.
The work-life balance is non-existent. You have no time for yourself, your family, and your kids. Once you become an entrepreneur, you become your boss. You do not have to break your head about reaching the office on time, office politics, work tension, job security, and lack of promotions.
Entrepreneurship comes at a price though
All these can be dumped into the garbage bin. This was a significant relief for me. Your income potential depends on you solely. If you put in the hours, you get paid. Otherwise, you do not. A very important pointer I missed out is your sick leave.
At times, you are either burned out or genuinely sick and need some bed rest. Imagine still working for somebody who is developing a new product. Your sick leave is canceled, and you have to be present there until everything gets sorted out.
All that is no more a botheration for you. Why I said that entrepreneurship comes at a price is because you have to make some sacrifices yourself. Though you may no longer have to work 12 hours a day, of a fixed time, being an entrepreneur requires you to put in the hours and effort in the beginning.
At times, I used to wonder did I make the right decision. I did not get paid for almost 3 months with my new venture. However, it was a good learning experience. I brushed my skills on the latest software and writing tutorials.
Some of the options that you have in front of you
You see, the writing was my hobby in school. I wanted to contribute to the content industry. Here we are with online marketing where websites require tons of quality content published on a regular basis.
I like to call myself a blogger, writer, freelance content writer, and so on. I would strongly advise you to take up writing or tons of other reliable online work at home. Imagine the freedom you have for yourself.
Not all jobs require you to work 10-12 hours. You can also choose from jobs like virtual assistant or medical transcriptionist, where the pay is hourly. It is good too.
I would also suggest you understand and learn the following traits:
How to master self-discipline
Traits to look for in a mentor or co-founder
How to avoid burnout
Previous Post
Next Post