FactMR is a fast-growing market research firm that offers the most comprehensive suite of syndicated and customized market research reports
---
Continuous Rotary Dryer Sales Surge with Advances Enabling Multiple Operational Functionalities, finds Fact.MR study
According to a new Fact.MR report, global sales of rotary dryers were close to 390 units in 2018, and are estimated to log a 3% Y-o-Y growth in 2019.
A plethora of aspects influence the rotary dryers industry, ranging from efforts of players to develop products with greater thermal efficiency through recycling of exhaust gases, to growing demand from process industries where reliability and lower sensitiveness to fluctuations in product size are key imperatives.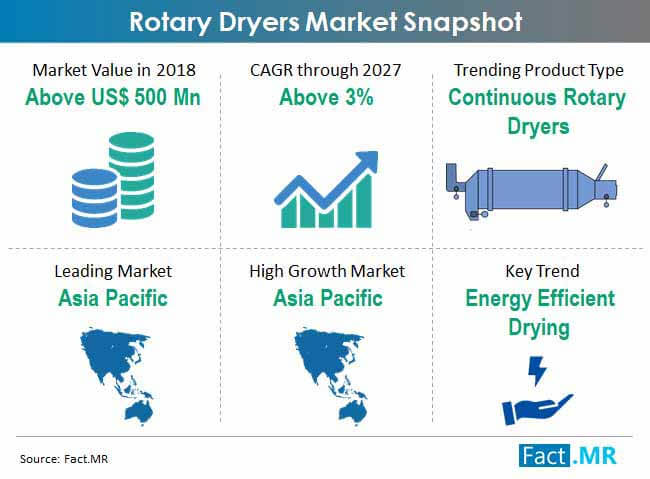 The report opines that continuous rotary dryers will remain preferred among end users, with sales in 2018 estimated at approximately 270 units. Elimination of consecutive drying requirements per material load, involved in batch drying processes, and relevant operational cost, have advocated the adoption of continuous rotary dryers among industries.
Get a Glimpse of Our Expertise Visit >>> https://www.factmr.com/report/3583/rotary-dryers-market
Additionally, advances in continuous rotary dryers such as integration of multiple functions, which range from granulation and coating, to cleaning and classifying, have been favoring the popularity and sales of continuous rotary dryers in recent years.
According to the report, although the drying technologies have been an essential requirement in the manufacturing processes, the industry is closing in on its maturity in terms of application.
However, the proliferation of the medical marijuana industry has been paving opportunities for the manufacturers of industrial dryers, which in turn has rubbed off on the development and adoption of rotary dryers to a significant extent. As the demand for industrial hemp drying equipment continues to surge, the rotary dryers industry will continue to witness a sustained growth.
APAC Leads the Way in Rotary Dryers Landscape
The study finds that APAC continues to spearhead the rotary dryers industry in terms of unit sales, accounting for over 30% sales. Significant growth in the food & beverage industry, backed by rising demand for packaged & processed food in the developing nations, have underpinned the demand for rotary dryers in the region.
The regional players are currently focusing on enhancing key attributes of the rotary dryers such as improved flow conditions, and better mixing of materials, in a bid to ensure greater drying speed.

The adoption of rotary dryers in various industrial processes continues to grow unabated, as leading market players invest in the development of solutions that feature enhanced thermal resistance.
Additionally, the emphasis on the betterment of the industrial infrastructure has been intensifying across economies, which has directly influenced the demand for various industrial equipment & technologies. This, coupled with the government initiatives for accelerating growth of the manufacturing sector, will continue to favor the sales of rotary dryers.
Contact Information
Fact.MR
11140 Rockville Pike, Suite 400, Rockville
20852
United States
Phone: +1 (628) 251-1583
More Info: https://www.prnob.com/release/show/rotary-dryers-market-is/44536