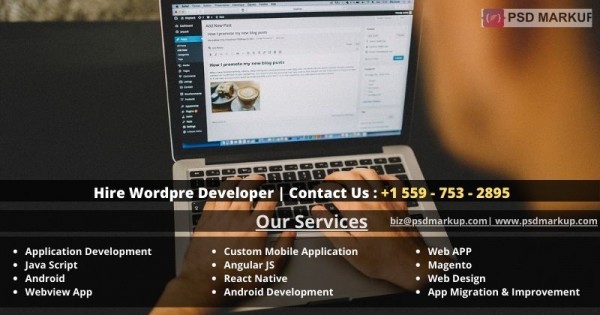 How to find that you need to hire Wordpress developers
You have decided to create a website on WordPress but you have no idea how you could do it. There are two ways to build an amazing WordPress website:
You can do it by yourself

You can hire a dedicated WordPress developer for your website development project
Now you are probably tangled with the two choices. The right decision should be based on your requirements and your website. Let's see on what basis you could make your choices and make the right decision for your upcoming website development project.
The good aspects to hire WordPress Developers
If you are developing a website for the first time and have no idea how to do it, even then you can learn. Learning how to develop a website with WordPress is easy but it will take time. In this situation, dedicated WordPress developers will help you with their skills and experience. 
Benefits of Hiring WordPress developers are: 
You can save a lot of time

Theme customization will be an option 

Top back-end Website maintenance

You will get assistance for plug-in installation

Custom functionality options are available

It is highly useful in case you need specific features and options

A dedicated WordPress developer has in-depth knowledge to extract the maximum benefits from the platform such as how to get the maximum site performance, security, and so on

A website will get a number of security threats and if you hire WordPress developers, they will give you ensured security 

Developers will help you in case you want help with the technical task, bug fixing, any update, and more
The Negative Aspect Of Hiring WordPress Developers
Everything has some pros and cons and so there are also some disadvantages related to hiring a WordPress developer too. 
Disadvantages of hiring WordPress developers are:
You have to afford the extra money to pay the developers that you hire for your project. If you go with the DIY, you will save these expenditures

You will be dependent on developers for any changes or updates

If you want to create a simple website, you may not need developers

If you make a poor hiring decision then you will not only lose your money, time, and effort but you will also get an inferior result in a website development project.
What should you do?
After going through the negative and positive points of both sides, you can now conclude by yourself which one would work best for you. You need to assess your requirement, budget, and the complexity involved in your project, depending upon which you can take your own decision. 
If your website will not require much technical requirement, complex functionality, and you are confident that you can do it by yourself then move ahead. If you find you will require high technical expertise in website building and your project is quite complex as you require complex functionality, then you should hire WordPress developers. 
What Are the Possible Options To Hire WordPress Developers
While searching for developers the very first thing that comes into mind is to hire freelancers. Freelancers are easily available and cheaper to hire but finding a good development is just like finding a needle in a haystack. There is another option available to ease your tension that is outsourcing. Outsourcing means you will hire dedicated word press developers from an agency. 
These days outsourcing service model is making a big roar in the market. Startups, small-sized businesses, es, and even enterprises are adopting the outsourcing model into their business operation. Here are a few advantages of outsourcing developers:
It will save costs on hiring, housing, and training staff. If you hire someone, you need to provide them with proper gadgets and other perks apart from salary. On the contrary, if you outsource someone, you will only have to pay them a salary. 

You will save time on hiring and training of the employee.

You will get proper experienced, skilled, and trained developers for your project

By teaming up with an external team with an excellent past record, you will be assured that you will get advanced technological support as they are working deeply with the advanced technology. 

They have in-depth knowledge and years of hands-on experience which will be beneficial for your project. You will always be surprised with new ideas about how to achieve better results in the project.
Make the right decision based on your requirements
Now, you can go with any of the models based on your requirement. Freelancers are easy to find. You can find them in your contact or on any online platform such as LinkedIn, Freelancer, Upwork, Fiverr, etc. On the other hand, if you are looking for an agency where you could find your dedicated WordPress developers then you will require to do some mind juggling.
Here are a few tips on how to find and hire the best WordPress developers from a software development agency:
First of all, you should define your goal and make a list of your requirements. It will include all your future steps for the project and your expectation from a developer. 

You should go through their experience, work portfolio, samples, and so on to check out their past experience. 

Go through their culture, working environment, privacy policy, and other policies before making any deal with them. 
Previous Post
Next Post