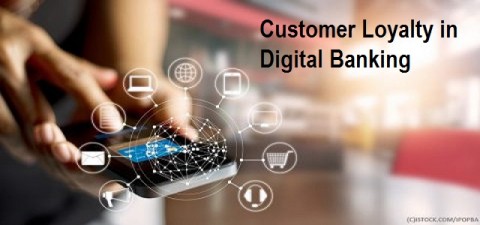 Building Customer Loyalty in Digital Banking
Trust is an incredibly imperative factor, irrespective of the industry. Though when it comes to banking, it can be the most important contributing aspect to gain more customers & develop strong customer relationships over time. However, today the situation of financial providers doesn't feel safe to the customers which brings the entire discussion to the point if we really can build trust in the banks?  
Can Banks Retain Customers in the Competitive Era?  
The financial services market is increasingly becoming competitive as the fintech and digital giants holding heaps of customer data have moved into the market offering every possible payment option from ApplePay to PayPal for sorting the transaction hassles including the retailer credit cards which give reward points on shopping. Consumers today have high expectations, while the banks are quite slow to catch up which leaves them vulnerable to digital distributors. Traditional banks have also launched digital programs, but they have often failed to deliver the exact due to a lack of internal expertise. Customers easily switch banking between providers. This is made possible through transparency in the available information on the offerings by different providers and the banks losing on their information advantage. 
How Banks can Stand the Customer Loyalty Game?  
Well, the traditional banks who're up in the list of digitization have a separate advantage altogether, they can bring a long history of experience and trust into the digital era and create propositions and experiences attracting and retaining loyal customers. In the world of digital preferences, customers are obsessed over 24/7 access to their finances through various channels along with the best-suited integration with their lifestyle and communication choices. Excellent customer services, distinctive customer experience, and competitive propositions and the stepstone to building sound customer loyalty.  
Building loyalty for the customers comes from developing communication and maintaining a strong relationship, customers wish to be understood as individuals and have their loyalty recognized by the banks they're making regular transactions with. For the banks only having a few points added in the account on the transaction can witness their customers switching to other competitors, customers require fair rewarding experience on their transaction. Banks have a huge data set on customer spending habits to perfectly deliver the right offers/deals or rewards on their made purchases/transactions. These personalized offers often bind the customers with a bank and let them feel valued. If banks fail to give a personalized experience to their customers, it might be much expensive for them to retain or attract more customers on regular basis.  
Effective steps to Build Customer Loyalty in Banking  
The rising technology like mobile and online banking has made traditional banks obsolete. They're required to invest in Bank Loyalty program and let their customer built trust in the brand and the banks develop greater & profitable customer support. Here are a few steps to build customer loyalty in banking-  
Improved Customer Service  
This is a =n imperative option but often overlooked by the banks. Customer service is the core and every industry requires to have a sound customer service section to address queries and support the customer 24/7. Before you get your loyalty program implemented, do not forget to have a full operation customer service team in action. Your team should be punctual, effective, polite, and able to create personal communication. Always remember, quality customer service is the foundation of loyalty.  
Create what your customer need  
The key to creating great products is knowing your target audience and their requirements. also, having a user-friendly mobile banking platform at the lowest rates or almost no-fee checking will boost customers to join and stick with a bank. The imperative factors that customers would require today include affordability, speed, simplicity, and technology integration. Build systems and products catering to the above-mentioned elements and make sure you're keeping your customer demands into consideration.  
As mentioned earlier, personalization attracts more customers than you ever thought it would! Providing your customers with a rewarding experience comes at the top of the list to build sustainable relationships and build trust among the bank and their target customers. For a start, learn how individual customers would like to interact with your bank, do they like to step in the branch, or prefer communicating virtually. You can reward customers through loyalty points, offer them lower fees for paying more bills through the banking transactional modes, gifting them gift cards and extra freebies on being the top spender, etc.  
Wrapping Up  
The practice of building customer loyalty in digital banking will in turn help the banks in engaging and retaining more customers. Banks are highly recommended to identify patterns in customer behavior and incorporate their analysis with the right set of offers for their customer. In case you're looking to develop specialized software, get in touch with a custom software development company to let you have a high-end loyalty program with the right set of features you wish to include.  
Previous Post
Next Post