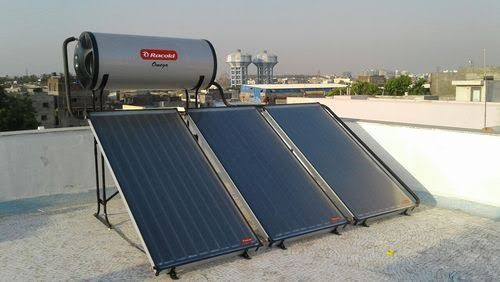 how a solar water heater can be a best choice
Winters are just around the corner and everyone is getting ready with their tight clothes and cozy blankets for the cold chilly days. But this won't help you to escape from freezing water droplets which can numb your hands whenever you go for a shower.
It's always said that prevention is better than cure, so why not make a wise decision and use a solar water heater in our homes. The solar water heater is one of the most efficient and economical devices of capturing the sunlight and using that heat for the supply of hot water in our homes. There are several kinds of best water heaters available in India. And you can find en-number of different best instant water heaters for your homes.
But you can be in a dilemma that you should go for a solar water heater or not? Or really a solar water heater is worth buying. We will clear your confusion by telling you about the pros and cons of the solar water heater, which will help you to get a clearer picture of the solar water heater.
Pros of solar water heater
Solar water heaters are getting popular in the market due to the features they offer and some of the unique features are:
Cost-effective water heating
Solar heater works on solar energy which is free and plentifully available in the warm areas. Most importantly, it doesn't provide any carbon footprint, which not only saves your energy bills but also saves the environment. Switching on to the solar water heaters from electric water heaters can turn 80% radiation into heat energy. Isn't it a good percentage?
Worthy for the initial investment
Most of the people have a query that there is a heavy installation charges attached with the solar water heaters, unlike any normal electric water heater. But the fact is that it substitutes the energy which you will be purchasing from the power company to run your electric water heaters. Also, it will benefit you in decreasing your fuel bills monthly which will ultimately compensate for your energy bills.
Easy maintenance
Solar water heater doesn't require any heavy maintenance. It only needs to circulate the water softener in the pipes in every 3 years.
Cons of solar heater
Everything has its two sides; just like that solar water heater has pros with few cons attached to it. Here are they:
Heats water only
The solar water heater is used to heat the water only. It is not used to heat any other electronic device.
The suitable climate is needed
As the name suggests solar water heater works according to the suitable climate. If there will be no sunlight it won't be able to work.
Though solar heater has few cons that don't make it less from any other water heater. As it offers astonishing features to its customers which make it a worth buying product. Thus, there are many best geyser water heater available in the market alike there are many best solar water heater brands in India and some of them are
· Suntec Energy metal
· Sun zone
· Onyx
· Racold Alpha
However, you can get the water heater according to your choice and budget. Some of the budget-friendly water heaters which are the best water heaters under 5000 and best water heater under 10000 are
Final thoughts
This solar water heater is for all those homeowners who want to enjoy the stress-free cold wintery breeze with the absolute supply of hot water in their taps. Visit K2 Appliances for more information about best geysers in India or the top 10 best geyser water heaters in India.
Previous Post
Next Post