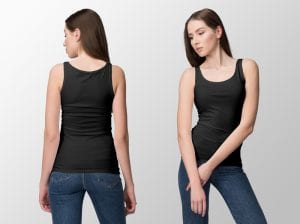 10 Advantages of using custom shirts in Branding Strategies
When we see a group of people working who dress in the same way, does it really catch our attention? This is thanks to the personalized t-shirts and their infinite advantages over the world of work. T-shirts and custom uniforms are one of the products that our customers request most to give a distinctive touch to their business.


Still not sure to make some custom shirts? Discover below all the advantages of these garments.
1. Stand out among the competition:
When your business has t-shirts printed with the company logo, your company gains value over the rest.
When a company attends an event, your group of employees will look better and will be easily identifiable as a company since all of them will be dressed in the same way and color so that there is no confusion with the other employees of other companies in the event.

2. Much more professional appearance:
Companies, (whether from the world of hospitality, construction or any other field) that have custom shirts show a much more careful and professional appearance for their customers, and that, are you really interested? In the textile world, you can find hundreds of different shirts that fit the philosophy and profile of your company. Cotton, polyester, bamboo and a multitude of different garments so you can choose the ones you like best.
3. Increase the trust of your customers
Some workers with custom t-shirts as we have said before give a more professional appearance, and in the same way this increases the trust of your customers in your company. With this you will get new customers and that they make more purchases or require more of your services. A good appearance of all your employees will confirm that your income in customizing clothes will be quickly rewarded.
4. Retention of your brand:
Companies are interested in people remembering the name of our business to request our services.
One of the best marketing strategies today is personalized clothing and merchandising to make customers retain our company memories.
Studies show that people memorize a company's name much better when it is printed on something we can wear.
5. The perfect way to unify employees:
On many occasions, we find disheveled or careless employees as far as their image is concerned.
Having the t-shirts personalized with your company logo will help your team always remain aesthetically clean, and they will also facilitate the task of thinking about what they will wear.
It is an ideal resource to create a group identity.

6. The best advertising poster: personalized t-shirts
In the t-shirts, you have a large surface to get your most creative side, and even, if you chose the full print sublimation technique you can print over the entire garment.
All you need is to create a stunning design to capture the attention of all those who see your shirt.
7. The perfect present!
Forget about impossible budgets and spend what you don't have. A personalized t-shirt with a good design and that is striking, is the perfect advertising claim for your customers. Pamper them a little.
Work well on the design you want to show on the shirt. You give them a t-shirt, and when they put it on, they will advertise for free. How about?
8. For all audiences.
The shirts are a product with many years of history that has been gradually incorporated as an indispensable garment for the day-to-day. That is why we can find t-shirts for women, men and children, and even for babies. Long sleeve, short sleeve, suspenders or half sleeve. For all tastes, colors, and prices!
9. Be unique and original!
Because no two people are the same, you also don't want to be like another company or convey the same message as others. Search your most creative side and create a design that makes everyone turn to surprise you with your personalized shirts.
10. Customize with any technique.
The advantage of the shirts being such a versatile product is that we can use any of the existing textile customization techniques on them. Be it screen printing, sublimation full print, DTG digital printing or embroidery among some of our techniques.
To a greater extent, your design will be the one that helps us recommend one technique or another, in order to have the desired result.
Conclusion:
If you want to know more about all the advantages that something as simple as personalized t-shirts can have for your business, contact Atlas Printing Press, so we can get the most out of the idea you have in mind. If you are a UAE resident, contact Atlas Printing Press for the best quality T-shirt printing in Dubai. The best printing press also offers Brochure printing, Business card Printing, Sticker Printing, Booklet Printing, Book Printing, Wedding Card Printing, Flyer Printing, & much more. In ages gone by, photo book printing was barely heard off! Now, the modern generation can simply own their best memories in their hands, and share them with others, not only in Dubai but anywhere in the world. Isn't that amazing? Contact Atlas Printing Press for the best photo printing in Dubai.
Previous Post
Next Post