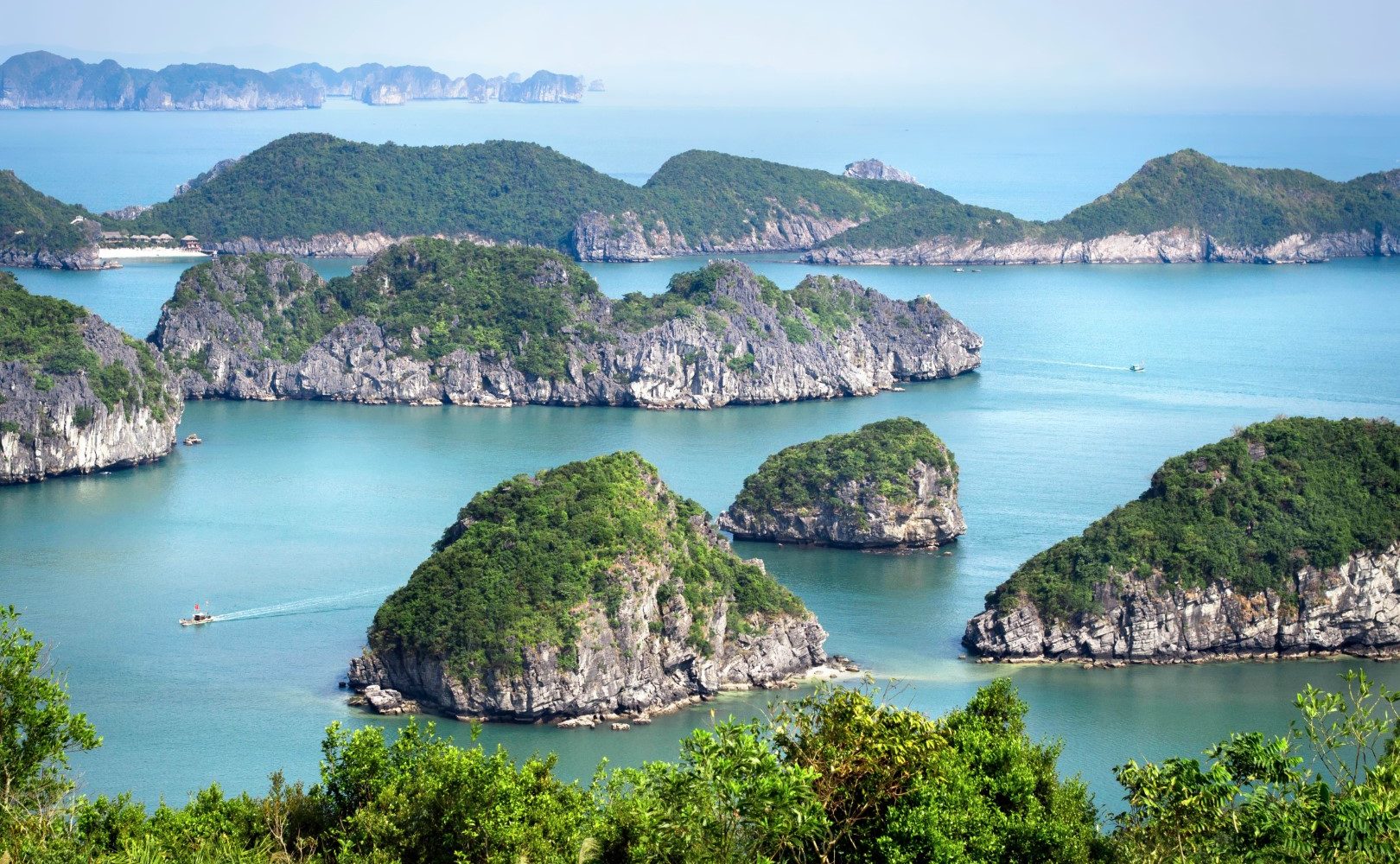 The 5 best choices for places to stay in Halong Bay
A lot of tourists coming to Halong will choose to take cruise tours to enjoy the stunning beauty of the bay. However, with the large number of travelers visiting there each year, this place also provide a wide range of hotels.
Below are the most luxurious hotels for you when spending your holiday in Halong.
Wyndham Legend Halong
Address: 12 Halong street, Bai Chay ward, Halong city, Quang Ninh province
At the top of the list is the Wyndham Legend Halong which is one of the most prominent hotels of the Wyndham Group of America. The hotel is located near Bai Chay beach, overlooking the World Natural Heritage Halong Bay and Bai Chay bridge, is very convenient for moving.
The 5-star hotel has 217 elegantly designed rooms in classic European style with classy service and high-speed wifi, suitable for all the needs of stay on business trips or vacation.
Moreover, this hotel in Bai Chay is very close to the entertainment areas and the beach. From the hotel to the Sun World Halong amusement park and Queen Victoria cable car station, it takes just minutes. There are also car rental service, an outdoor swimming pool, a gym, and professional 24-hour receptions, etc in the hotel where to stay in Halong. For those convenience, Wyndham Legend Halong hotel was largely rated by guests overall.
Halong Paradise Suites Hotel
Address: Tuan Chau island, Halong city, Quang Ninh province
Paradise Suites hotel is located in the heart of Tuan Chau island, only 19.2 kilometers from Halong city. This is one of the 4-star best places to stay in Halong that you can trust. The hotel consists of 156 luxurious bedrooms with luxurious European furniture which are designed and executed exquisitely with the main materials of natural wood, marble, and premium leather. The spacious suites have air conditioning, smart flat-screen TV, dark wood furnishings, and large windows with sea view. In addition, Halong Paradise Suites hotel also has a customer service team who are very attentive and dedicated.
When booking, customers will be advised to choose a tour to Halong bay, Cat Ba island, and Yen Tu relics, carefully arranged from booking plane tickets to limousine or private helicopter to be picked up.
Vinpearl Resort and Spa Halong
Address: Reu island, Bai Chay, Halong, Quang Ninh
A luxury stay in Halong is waiting for you at Vinpearl Resort and Spa Halong, where you are just 3,3 km from Sun World Ha Long Park and 4 km from Bai Chay market.
There are all 384 rooms in the hotel featuring flat-screen TVs with cable channels. You can freely use free WiFi, balconies, and free bottled water which are provided in your room. The refreshments are provided at the minibars, and you can order your meal at 24-hour room service. Highlights in the 5-star hotel include soaking tubs, bathrobes, slippers, safes, hair dryers, and phones that are available.
A relaxing day at Vincharm Spa can include massages, facials, and body treatments along with access to the sauna and spa tub. The Akoya Restaurant serves international cuisine. This restaurant opens for breakfast, lunch, and dinner.
There are the resort's own poolside bar and bar/lounge in the hotel where you can go to enjoy a drink. Spending the day on the beach and relaxing in the sun loungers, it is time for you to enjoy the beautiful views of Halong. The hotel also provides the meeting rooms and a business center for business travelers. Of course, it is not missed to list other amenities in the hotel such as free WiFi in public areas, a fitness center, and an outdoor tennis court.
Royal Villas Halong
Address: Halong street, Bai Chay ward, Halong city, Quang Ninh province
Royal Casino Villas Halong hotel is located in Halong street, Bai Chay, Quang Ninh, taking around 3.5 hours to drive from Noi Bai International Airport, 900 meters from Sun World Halong Park, 800 meters from the beaches, and 2 kilometers from Vietnam night market in Halong.
The hotel is designed in a modern style, exuding luxurious and courteous appearance with all facilities to meet the needs of visitors. The best place to stay in Halong has airy, beautiful, and clean atmosphere, good quality service, and friendly staff who are enthusiastic to help customers. More than that, the hotel also offers guests with entertainment activities to keep them always happy and excited during your stay.
Not only does it bring tourists exciting experience and flawless beauty, the city also gives travelers a lot of choices of hotels where to stay in Halong. If this is helpful for your tours of Vietnam, don't hesitate to like and share with others. Thank you and hope to serve you in Halong.
Previous Post
Next Post