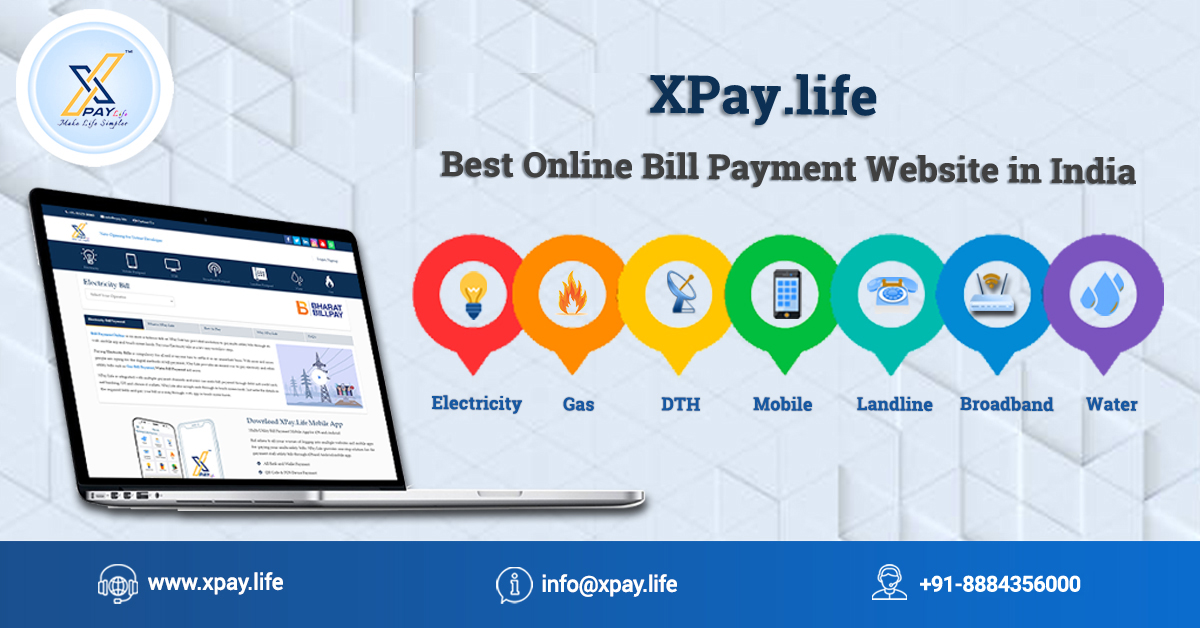 Online Bill payment and the Importance of Secure Transaction- XPay.Life
A few years ago, taking all the transactions online was a farfetched idea. How more secure can payment be unless it is done in front of the eyes and the physical transaction of the hard cash?
How trustable is some invisible connection in the air that can transfer the money to the required person and pay the bills? But did you know that online transaction is safer than handing out the credit card to the waiter at a restaurant?
Times have changed with the technological advancements and e-commerce sites like Amazon, Flipkart, Firstcry that people are slowly getting adapted to trusting of the online transactions. Even the normal chores like online recharge DTH, water bills, electricity bill payments etc are uplifted to the online platform and everything is done with a snap of the fingers.
The threat from hackers, virus, and malware are still pertinent. Even with the highly secure digital channels, there is a high chance of being prone to cyber attacks, data theft, phishing etc. Some even hesitate to pay gas bill online.
The same goes for other bill payment portals online. While paying the bills, an individual stores data such as his name, bill number, customer ID, credit card number, debit card number and OTP's. These data are encrypted and make sure of the double OTP verification of the transaction.
What makes the transaction in XPay.Life secure?
Technology and smart devices are becoming an irreplaceable asset in our life. Every chore, small or big is accompanied by the touch of the pervasive technological innovations and there is a threat to the security, data stored and the details shared with the third party.
Some applications and digital gateways are using block chain empowered technology for stringent security. XPay.Life is one such application that promises, quick, safe and reliable modes of transaction. Let's talk about the technology we use in XPay.Life.
Block chain Technology in lame man words
Blockchain technology is a chain of blocks connected together, each block consists of customer's data and each block is marked with a called hash which is a code for that particular block. It is as unique as a fingerprint in humans. Apart from this, a single block consists of the data of the previous black's hash as well. Making it a complex interconnected chain of data blocks.
If one particular data is tampered then the hash of the block changes and every other block associated with it doesn't accept the change. Hence it is 100 percent secure. The secure hash makes sure nothing is stolen, edited, or tampered with.
Our application XPay.Life is a pioneer in bringing its customers the safest modes of payment empowered with block chain technology and uses artificial intelligence to update the users about the last date and due dates of the bill payments through alerts and notifications.
How to pay your bills on XPay.Life?
All kinds of bills can be paid using the online mode of payment. Be it electricity, gas, water, mobile postpaid, landline, broadband. In the online mode of payment, there is a provision for using different kinds of payment channels such as credit cards, debit cards, UPI, net banking, mobile banking etc. All the data will be encrypted and assures the privacy of the customer.
Steps:
·Login to www.xpay.life
·select the desired utility bill to be paid
·Select the operator
·Select mode of payment and
·Select Pay now
The same can be done by downloading the XPay.life application that works on both IoS and Android-based mobile phones.
Landline Bill Payment
Many corporate offices still are comfortable with using landline connections for interior communication of the company. A Secure landline bill payment is a must for the companies which are involved with important projects and wouldn't want to be slowed down to some error due to the bill payment.
Hence XPay.life is the one-stop solution for all bill payment problems.
The next time you log in to a blockchain-enabled portal to make a BSNL broadband postpaid bill payment to access unlimited internet services, do it with complete assurance that it is safe, reliable, credited and a trustable source for all your bill payments.
Previous Post
Next Post