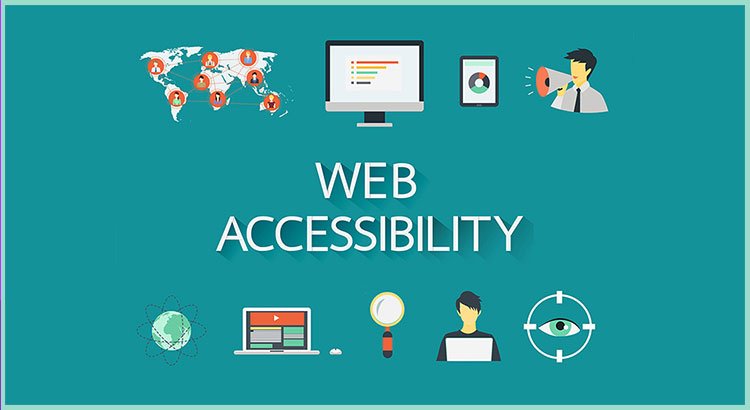 Why and how do you add accessibility features on your site?
Website accessibility is majorly contented for vision impairments clients. By adding the section of accessibility in every mobile, the IT industry has defined that these smart devices are not just for physically well personality, in fact, it can easily be used by disabling people too. They want to order food, or they want to take a ride, With the help of this facility disable people can use all industries' apps such as E-commerce, shopping, traveling or even hospitality. So, if you are also considering creating an app or for your business, then you definitely need to add this functionality, in order to get more attention and engagement on your business page.
According to a survey it is found that around 25% of the world's population experience some form of disability. The statement also remarks that "people with disabilities have
Lower education achievements,
Poorer health outcomes,
Higher rates of poverty
Less economic participation and
Physically challenged
"As compare to people without disabilities" & these outcomes are frequently linked to barriers linked to getting particular services.
Tactics that you must follow while making websites accessible for the blind
This is not just the simplest feature to add while making websites accessible for the blind; however, it contains a variety of service page content that needs to be reachable to everybody, which includes videos, navigation controls, PDF documents, and images. To fulfill the requirements, you will need a skilled team of web developers, marketing, SEO, and last but not least design specialists.
The main point is facts, because if you won't share your facts then your professional team won't be able to identify and create the best strategy to tackle that particular issue. After knowing all the details your respective team will need to make a plan of attack by priority and type. Here we have shared some common accessibility tactics that your team should go through before developing a blind accessibility website…
Write page Titles, so that your clients can navigate easily
A page title will tell the consumer what page they are on. Moreover, it will help your respective users relying on screen readers to navigate more easily.
Appropriate Headings
By organizing appropriate details under headings and subheadings, your respective clients will easily understand where they are on the page and where they're going.
Alt Text
Screen readers rely on alt text to inform users what the image is about. Every image should be labeled with descriptive information so that your user will easily understand the details of the photo.
Video captions
Transcripts of videos are very helpful for users who can't hear or users who can't play sound while viewing.
Contrast Ratio
Without sufficient contrast, some users cannot read the text between the text and the background. Make sure the business or service page has a minimum contrast by default (4.5:1 is the standard ratio) so that the page is readable.
Resize Text
Many users may need to adjust the text to a larger size. Pages need to be designed to accommodate this function.
Keyboard
Many people use a keyboard to navigate, instead of their mouse. Make sure a user can click on all menu and page elements.
All these elements are really important to monitoring continuously, for that scheduled time for ongoing consultation, and monitor website functionality to maintain meeting accessibility standards.
Plus points for people without disabilities
Making digital product reachable not only supports people with disabilities, but other populations also get too many benefits such as:
They can learn a new language
Senior people whose eyes or ears are failing
Individuals with low literacy
Individuals that are not using the latest technologies to utilize the Internet
Designing your digital marketing products with universal design principles in mind ensures a more flawless user experience for a much wider population.
Conclusion
In the end, we can say that a blind accessibility website is a must for your client to invest the time to complete a project, compare them to the competition, and you should assist them to understand the impact for people with disabilities and for the site as a whole. For that reason, you can show them you have a strategy for resources, communication, and implementation.
Source Link: http://avextinct.com/why-how-do-you-add-accessibility-features-on-your-site/
Previous Post
Next Post