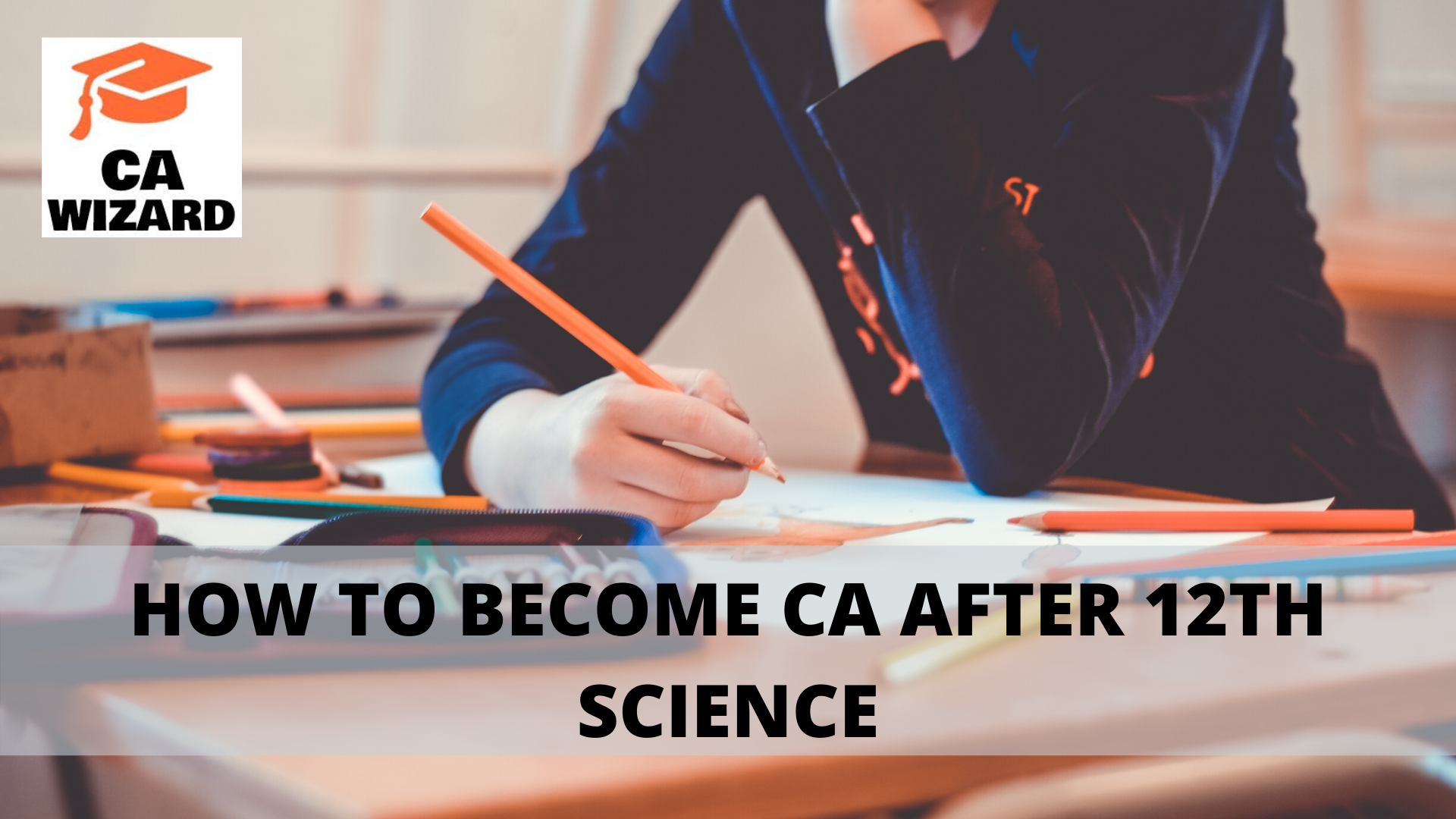 How to Become CA after 12th Science?
It is the query for many students that being from Science stream can I do CA course? Can we do ca after 12th science? Is CA easy for Science Students? How to become a ca after 12th science?
If you are also having such questions in your mind, we can clear all your doubts from this article.
For doing Chartered Accountancy Course, one needs hard work and dedication, ICAI has very liberal rules regarding pursuing CA Course, as anyone can do CA course after 12th irrespective of its field whether he/she is from Science stream, Commerce or Arts Stream.
So read this article, your all doubts will get clear regarding How to become CA after 12th?
But students who are from Science or Arts have to give extra effort as compared to Commerce students because commerce students have core knowledge and background of Accounting, etc but for non-commerce students, they have to work on basic of commerce first then can proceed to Chartered Accountancy Course.
Eligibility for doing CA after 12th Science
The Institute of Chartered Accountancy of India (ICAI) has set relevant eligibility criteria for pursuing CA course after 12th, students required to achieve a minimum of 50% marks in 12th board exams from recognized board like CBSE, ICSE or other recognized state boards, irrespective of stream i.e. from commerce, science or arts. They can do CA Course after 12th.
Duration of doing CA Course After 12th Science
Students who want to do CA after 12th Science, it will take a minimum of 4 years to pursue CA course. The Chartered Accountancy course is divided mainly into 3 Stages with 3 years of Articleship Training after clearing CA Intermediate First Group, it is considered as Four Stages.
Students who will do CA course After 12th Science need to clear these Four stages to become Chartered Accountant in India.
Stage 1- CA Foundation
Stage 2- CA Intermediate
Stage 3- Articleship and Training
Stage 4- CA Final
Students need to face CA Foundation exams which are segregated into Four Subjects, which is of 100 marks each. Students need to achieve at least 40 marks in each subject and aggregate of 50% marks in all subjects to clear CA Foundation.
Paper 1- Principles and Practices of Accounting.
Paper 2- Mercantile Laws and General English
Paper 3- Business Mathematics, Logical Reasoning and Statistics
Paper 4- Business Economics and Business and Commercial Knowledge
Fees for CA after 12th Science
CA Foundation Fees structure-
Before preparing for CA Foundation, students need to register themselves for CA Foundation with the below stated registration amount for CA Foundation Course.
| | | | |
| --- | --- | --- | --- |
| S.No. | Details of Fees | Rupees (For Indian Students) | US$ (For Foreign Students) |
| 1. | Cost of Prospectus of Foundation | 200 | 20 |
| 2. | Fees CA Foundation Registration | 9000 | 700 |
| 3. | Fees of Subscription for Student's Journal (Optional) | 200 | 20 |
| 4. | Fees of Subscription for Member's Journal (Optional) | 400 | 40 |
| | Total | 9800 | 780 |
CA Intermediate Fees structure-
Below- mentioned is the proper Fees structure of CA Intermediate Level-
S.No.

Details of Fees

Both Groups (Rs)

Single Group

(Rs)

Both Groups

(US$)

Single Group

(US$)

1.

CA Intermediate Registration Fees

15000

11000

2.

Student's Activity Fees for CA Intermediate

2000

2000*

3.

CA Intermediate Registration Fees as an article assistant

1000

Total CA Intermediate Fees

18000

13000

1000

600
CA Articleship Training Fees
Candidates who clear their 1st Group of CA Intermediate, can register for three years(3 Years) of CA Articleship Training. Fees for CA Articleship Training has been fixed by ICAI as INR 2000.
ICITSS Fees in India-
Information Technology Program – Rs 6500/-
Orientation Program – Rs 7000/-
AICITSS Fees in India-
Advanced Information Technology Program – Rs 7500/-
Management and Communication Skills – Rs 7000/-
CA Final Fees Structure-
Indian Students need to pay INR 22,000 (Rupees Twenty Two Thousand) and for Foreign Student USD1100 is the fees for CA Final.
Is CA Easy For Science Students?
There are many myths regarding Is CA easy for Science Students?, CA we do CA after 12th Science? Etc.
But many science stream students have cleared Chartered Accountancy Course with All India Rank, one of the students of VSI Jaipur has achieved AIR in CA Final that is CA Sarvesh Kabra who achieved AIR 11th in CA Final Nov 2019 Exams.
Even he said in his interview that with the proper guidance of his teachers and their pattern of study made me achieve All India Rank in CA Final.
Even VSI Jaipur is the only CA Institute in India who has given 6 AIR 1 in Last 8 years and 2 times ever highest marks in the history of CA.
With his result and teacher's guidance, he was able to attain good marks with All India Rank even though from the Science stream.
From whichever stream you are, if you have passion and dedication for doing CA, no one can stop you for becoming a Chartered Accountant even you pursue CA after 12th Science.
Previous Post
Next Post