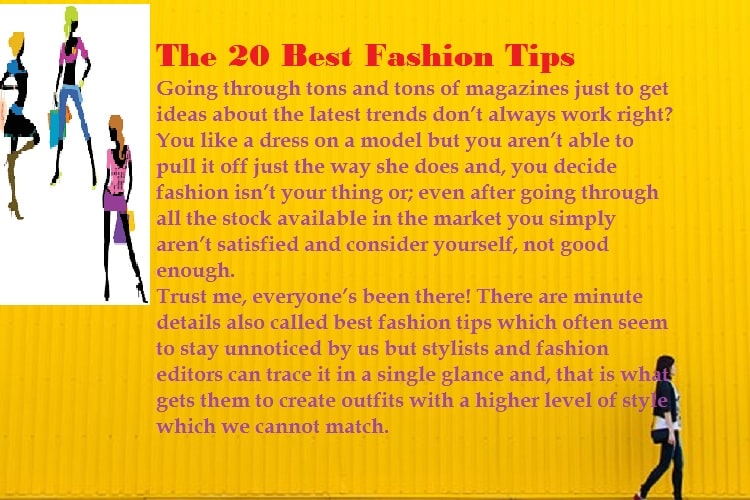 The 20 Best Fashion Tips : Every Women Should Follow
The 20 Best Fashion Tips of All Time
Going through tons and tons of magazines just to get ideas about the latest trends don't always work right? You like a dress on a model but you aren't able to pull it off just the way she does and, you decide fashion isn't your thing or; even after going through all the stock available in the market you simply aren't satisfied and consider yourself, not good enough. Trust me, everyone's been there! There are minute details also called best fashion tips which often seem to stay unnoticed by us but stylists and fashion editors can trace it in a single glance and, that is what gets them to create outfits with a higher level of style which we cannot match. It's obvious for the people in the fashion industry to know the exact proportion of any outfit but for people who follow the trend through magazines, it is usually very difficult for them to know how to compliment everything. Below mentioned are some of the best fashion tips which would make you stand out the crowd.
Show skin strategically
Revealing too much skin is never a good option which is very much mistaken by everyone. You should let out a bit and keep the rest for mystery. Choose only one body part to reveal, holding back the other. If you wish to flaunt a cleavage, you must choose an outfit which doesn't show your legs and when it is the legs you wish to flaunt, keep yourself covered on the top.
Accessorize with brights
There are a number of neutral colours like navy, black, camel or even grey. If you have a closet full of outfits in any such colour, pair them up with bold coloured shoes or bags. To make a black outfit lively, adding a ruby red bag is a great example. You can always wear shoes and bags in two different complementary colours to make your outfit look really brave.
Know your stretch
The quality of jeans should always be taken care of. Like for instance, 95% cotton and 5% Lycra spandex is the perfect blend of fabric which makes the jeans stay in shape on your body too and not only when on display. If not 5%, at least 2% Lycra is must help jeans grab on the shape.
Throw on a scarf
Scarf goes with literally any kind of outfit. Putting on a scarf to make a simple plain outfit look styled. Knowing how to make appropriate knots is always an add-on and scarfs are usually easy to carry as you can simply put them in a carry-on.
Consider the wear and care
Before finally buying an outfit what you must look on to is its care. If you think after 3-4 washes the outfit is going to look the same on you, then you must probably. Buy it but if you're unsure about the care you must take regarding it, I simply suggest you walk away.
Embrace your shape
If you know which shape of the outfit compliments your body shape, there you go. You can filter on a bunch of dresses just while looking at them and know which dress would look good on you. Like for example, if you are short and have a good shape, you must probably go for the dressing which end up a few inches above your knees and have a defined waist, rather than long stripes and maxi dresses.
Edit your closet
You must always keep a check on your closet and remove all the unnecessary clothes which you no longer use, to make room for new stuff. Also, clothes must be set up in an order which would help you see every item you have and there is no denying, clothes need a spacious room.
Check the inside
The best of designers say the lining of the cloth is where the mystery is hidden regarding its quality. A good lining would tell you the amount of care which is put in while manufacturing the item. Hence, it's always suggested to check on the inning lining of the cloth.
Open you mind
Did you ever literally love a piece of cloth and, thought – no, it's not meant for me and you walked away? I suggest you keep an open mind and try on the outfit, you never know what surprise it might unfold.
When in doubt, wear nude pumps
Did you ever get so confused regarding the footwear which would be compatible with the outfit which you wore? You must always compliment it with nude pumps as they literally go with anything and everything.
Wearing white? Check it in light
White looks, even more, see-through when exposed to the light, and hence it is suggested you go through a light check before pulling it out finally.