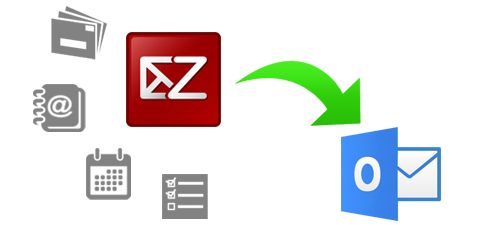 How to Convert Mailbox Zimbra to Outlook using Zimbra TGZ Converter?
Are you in a need of converting Zimbra mailbox to Outlook? If yes, then follow the blog that provides appropriate Zimbra Converter tool to convert mailbox Zimbra to Outlook with emails, contacts, briefcase, calendar and other items.
Nowadays, emails have become a crucial part for communication in every organization. Everyone ranging from corporates to institutions etc. have become digitalized and utilize emails to communicate from one place to another. In order to send/receive emails between users and groups, an email application is must. Depending upon the requirements of users, number of emailing programs both browser and desktop based are available in the market. Zimbra is one such email client that offers not only browser services but also comes as desktop edition. Let's understand more about Zimbra and Outlook.
Overview – Zimbra v/s Outlook
Zimbra Desktop is a part of Zimbra Collaboration Suite which can run on multiple platforms such as Linux, Windows and Mac. The application is released with two editions, one is open-source which is free and other is commercialized that represents Network Edition. Users can utilize the services according to their suitability.
Outlook on the other side, is a Microsoft product which is compatible with all editions of Windows. A separate series of Outlook editions were launched for Mac edition, but MS Outlook is more of Windows product and the latest edition of Outlook which is released recently is Outlook 2019. It is also known as a Personal Information Manager that easily manages the contact information, appointment and meetings scheduling, tasks, notes, journal entries and to do lists. Users can make use of Outlook as a stand-alone email client and also be utilized when connected with SharePoint or Exchange Server.
Why Converting Zimbra Mailbox to Outlook?
Although, Zimbra has simple graphical user interface that enables to manage multiple user accounts in single environment its slow response rate hamper users and make them frustrate when they access their accounts. Moreover, the lengthy configuration process leaves negative impact on users who wants to work in fast speed. Also, no phishing filter option is available, does not support bottom post replies and reformatting of received messages. All these features are available easily in MS Outlook. As Zimbra is ruling for more than 2 decades but still Outlook is a preferred email program. Due to this, users are finding a solution using which they can export all mailbox folder data from Zimbra to Outlook.
How to Convert Mailbox Zimbra to Outlook?
The possibilities of manual conversion of Zimbra mailbox to Outlook is extremely low or NIL due to different file types that are supported by both Zimbra and Microsoft Outlook. Zimbra client make use of TGZ folder to save all its supported folders such as briefcase, inbox, drafts, contacts, calendar and more. Microsoft Outlook use PST folder for the same. So, if a user is switching to Outlook from Zimbra, then it will be necessary for them to convert Zimbra TGZ folder to PST. Because if a user tries to open TGZ format in Outlook, then error will arise as Outlook won't open any format other than PST. And in order to perform the process, it is recommended to go for third party solution which is cost-effective and secure to access.
Zimbra to Outlook Converter is a remarkable migration utility which allows to export batch Zimbra mailboxes TGZ folder to Outlook 2019, 2016, 2013, 2010, 2007 and below editions. The application includes easy working interface and advance features so that all kind of users can use its operational steps quickly without taking help of technical specialists. Software comes with free demo edition that allows to convert first 20 Zimbra files from each item to required format with attachments.
Previous Post
Next Post