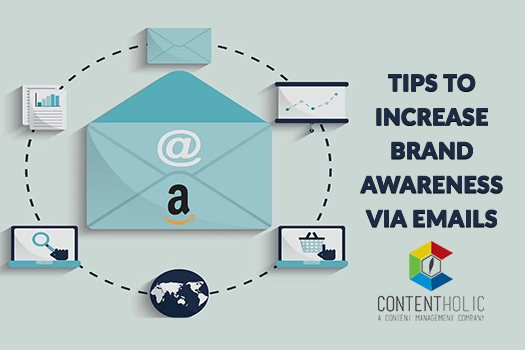 Tips to Increase Brand Awareness Via E-mails
Emails are considered to be one of the most effective channels to promote content and generate conversions. It used to be an underrated platform earlier, but the way emails have grown is absolutely miraculous, thus giving businesses the easiest way to generate sales efficiently. Content promotion via emails has surpassed social media, Search Engine Optimization, PPC and display ads and is a promising platform to boost the ROI.
But the fact is that not everyone can utilize the power of emails to its full potential. If you are a marketer with a good knowledge of how emails work as a promotional tool, then you have your way out. But if you're not familiar with the aspects of email marketing, then you're going to have a hard time. So before you get started with this very promotional technique, here are some tips that you can follow to increase brand awareness through your emails:
Look for consent
To build your brand's reputation, you need to target the right set of customers, who are actually interested in buying your product or service. Sending emails to random people about your company will not do you any good and will have the opposite effect on your brand. So when you do email marketing, always ask for the consent of your potential customer. Give them an option to subscribe. This way you will be able to reach out to a more specific set of audiences. So whenever you organize a campaign, make sure the first email that you send is that of consent.
Incorporate welcome emails
Greeting people is always god manner, right? So when you are presenting your brand to your potential customers, start with sending welcome emails. This is an effective way to make your campaigning more interactive and helps you strike a chord with the subscribers. Remember, the best impression is the one that lasts. So do not take the welcome emails lightly.
Focus on valuable content
Sending irrelevant emails trying to desperately increase sales is one of the worst tactics that you can apply. In the present world, content is king. And if you get that part right, you have done half of the job. You can use email marketing to share insightful content about your company, about your projects, sales, and so on. You can have a professional newsletter template designed for the same, to make your content look informative and engaging.
Follow a personalized approach
When you have a large set of audiences that you are targeting, segmentation is a top priority. Divide your subscribers on the basis of age, gender, demographics and buying behavior to understand them better. With this segmentation of information, you can easily make your email marketing strategy grab attention. When you create and send behavioural emails, you are adopting a personalized approach, which will definitely help you generate brand awareness.
Incorporate a strong Call To Action
No matter how rich your content is, or how good your presentation is; unless you prompt your customer to take further action, the whole effort is waste. It is therefore important to incorporate a strong CTA to make your customer take immediate action. Grabbing the attention of your subscribers and making them take a further step in the process of buying is surely going to enhance your brand awareness.
Consistency is important
You cannot randomly send emails to your subscribers as and when you like, in whatever shape and format they are. Following a consistent approach is one of the many essentials of content marketing and you need to take care of the same. From the content to the visual look, from the formatting to the frequency of the emails; everything needs to be top notch. For instance, if you are creating a catalogue to be sent across via emails, everything about it should be perfect. For that you need to look for the best catalogue design templates and then act accordingly to design your. You just need to be consistent with whatever email marketing strategy you are applying.
Conclusion
Email marketing is one element of marketing that has generated sales for many businesses and is not to be taken for granted. If you wish to build your brand image and enhance sales, follow these tips to make your email marketing strategy better.
Previous Post
Next Post