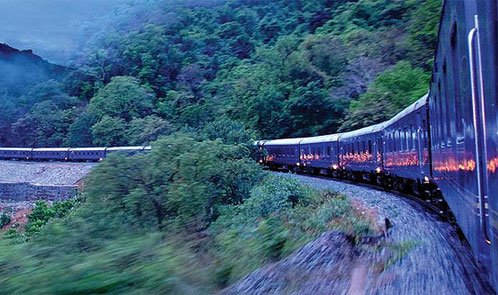 Reasons To Travel In Luxury Trains In India
Whether it's for work or just a fun-filled vacation, traveling in India can be some tough work. Depending on where you are, the facilities differ greatly. This can make the whole process of touring across the country a bit complicated. However, what if you had a foolproof method of ensuring comfort and class wherever you travel to? India's luxury trains can provide that guarantee and have done so many times. Here are only a few reasons you should choose India's luxury trains to travel.
Hospitality - One would be amazed at the kind of lengths Indians go through to make their guests comfortable. The term 'Guests are God' is deeply rooted in the culture. And nowhere is it more prominent than with luxury train hospitality.
With trains like Deccan Odyssey luxury train, people go out of their way to be sensitive, gracious and caring. You would be presented with a red carpet welcome, and then be treated to traditional Indian hospitality. There is staff including butlers, guides and tour managers who are available throughout the journey to take care of every need of the guest at any and all times.

Decor - Nothing can match the intricate decor, inspired by years of traditional architecture and art forms. It is a timeless masterpiece exuding magnificence and royalty. The cabins are designed to reflect the cultural spirit of the destinations covered by that luxury train. In trains like the Deccan Odyssey train, India has never looked more spectacular or well reflected through the decor.

Facilities - The interior decor of the luxury trains is characterized by a well-balanced and artful fusion between classical and contemporary art styles, and each cabin is equipped with the world-class amenities to offer a lavish and pampering stay. You would be treated to all the classy facilities you would need, from Wi-Fi connection to air conditioning.
These trains have dining cars and bars, a library, an observation car, a souvenir shop, and some even offer a spa and gym facilities, so you never fall short no matter how long the travel time.

Cuisines - The food alone can make someone want to revisit the Indian luxury trains a number of times. They offer the best cuisines from all over India, along with continental and oriental choices. You can also get a taste from the authentic local cuisines.
Each train has its own set of a professionally trained and dedicated team of chefs and kitchen staff, who work hard to prepare nothing short of the best kind of food you could find on a train. You can experience gourmet dining and exceptional catering service first hand at the Indian luxury trains. Depending on your itinerary, you can have an opportunity to eat royal lunches and dinners at palaces and fortresses that belonged to ancient maharajas.
Catch a glimpse of Real India
These trains have panoramic windows to offer a full view of each area and landscape you go through. Mountains, valleys, greenery: they are all there for you to admire and look at up close and personal with a crystal clear view.
The sight of luxurious train travel with picturesque sceneries passing by can be an awe-inspiring sight for many. However, sometimes it is hard to find a good place to be able to book tickets. You may feel like the price is too high, or that you cannot find a convenient time.
A lot of times, there may be inaccurate information, or the prices go up the second time you look at them. Moreover, physically booking a ticket can be grueling work, where you would have to wait in line to book a train that is three months away, and you had to travel 10 kilometers just to reach the station in the first place. Well, when it comes to booking train tickets, the internet is your best friend.
Previous Post
Next Post