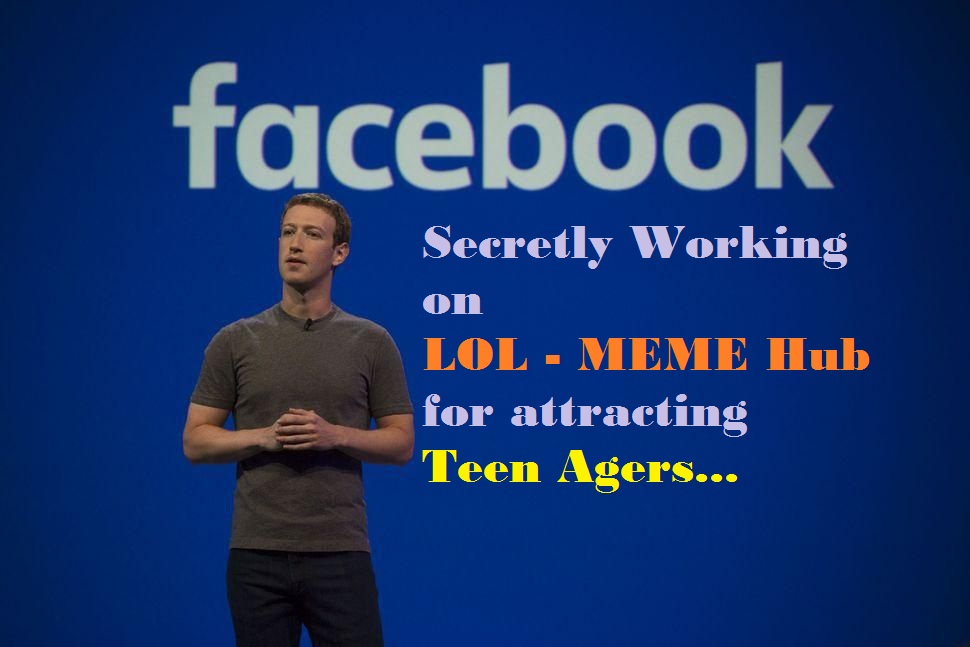 Facebook is secretly working on LOL Meme Hub for Teen agers
The Secret working of Facebook : LOL Meme Hub for Teen Agers
There is no denying, Facebook usually attracts people of every age group. But, the target audience for Facebook is always the teen because they make up the greatest number of people from an age group to use it. And, it tried its hand on many other features such as – Facebook watch, IGTV etc and it failed miserably in them with every launch of new product. After failing in all such products, Facebook is now rumoured to be secretly working on a new feature which would be called "LOL". LOL would act as a bridge which would connect the traditional news feed to meme focused content and this Facebook meme hub would draw the attention of teen who is presently diverted to other social networking sites such as Instagram, TikTok and Snapchat. Facebook meme hub is aimed at winning on the teen audience from heart and mind.
What's the plan?
It is learnt from numerous sources that Facebook has been working on LOL for many months straight and that it would contain Meme content in the form of GIF-like clips and feed of funny videos. It would be divided into many categories like: -
For you

Animals

Fails

Pranks, and many more.
The content displayed in this will be pulled out of the most popular and top meme pages from Facebook to ensure better demand. This update is at present available for a number of 100 high school students on a private beta, to test its performance who signed a non-disclosure statement to work only with the staff on one-on-one testing and also group activities with the consent of parents.
Heads up on the progress
When asked by various news channels, Facebook confirmed LOL is presently in testing among a small private group of users who are exploring the update in a watch tab. However, they aren't sure about the finalizing of the deal which would either be – adding up LOL as an upgrade or, launching it up as an individual app. They also stated they have no intention of releasing LOL in a watch tab. Facebook has however refused to give away any formal statement but, has given everyone the clue that the information everyone has with themselves is true. It is assumed that the test being in its early stages is the reason Facebook hasn't been throwing out all the information.
Follow up
Some sources who are familiar with the LOL's design have said, that LOL is probably "cringy". The reason is Facebook being in desperate need to gain back the teen audience who have simultaneously fled to other sites which provide easy access to share stuff. The sources say Facebook is only trying to blend in with the younger people but, is actually not meant for it as the videos and meme content kids would find in LOL has a high chance of being old and not being up to the mark to entertain the kids to start using LOL. With parents, highly taking over the use of Facebook, this has led to the kids switching onto other applications such as Snapchat, Youtube or even Instagram.
In the test going on, the users are provided three buttons namely – "Funny", "Alright" and "Not Funny" which can be used to mark the content from the above-mentioned categories. On top of the feed is an option known as "Dailies" which would feature the popular content along with categorically organized content just like the programming of Snapchat and kids can directly climb onto a particular section.
If described in a stance, Facebook is trying to lure all the experiences from various other apps into one single platform. An additional feature would be added to LOL which would help determine the age of a meme, for all the kids who are deeply meme-obsessed. This option would be called "I'm old" which, at present isn't provided in any of the other applications available in the market.
What usually happens is, teens, discover a meme which they find funny and save them up to share it with their friends via DM. Instagram is at the lead of all the apps which display meme content via various pages made to share memes. However, there hasn't been an app which is solely dedicated to the meme and might find luck at surviving by creating tools to develop meme.
Conclusion
The fact that Facebook is trying to get on the top of the ladder is enough to view how it is working on to grab hold of the opportunity. With daily chaotic life, each one of us tries to dwell into an entertaining atmosphere in order to lighten up our moods, and memes are the easiest way to attain that. It would be great to view meme directly without searching for it and LOL would make it easier.
Some More Technical Articles Written :-
Thanks for Presence..
Previous Post
Next Post