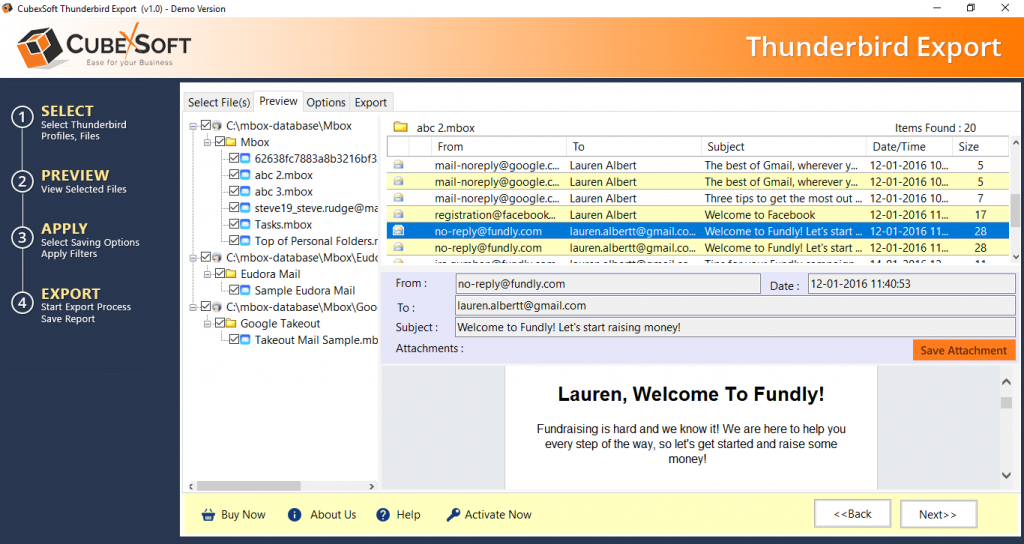 Thunderbird to Outlook Converter - Download Free Software
Email management is most important for all organizations as the emails are using for operational activities. Mozilla Thunderbird and MS Outlook applications are the most usable email applications which can be operated by all users individually as well as for a group of people.
But sometimes, users of these email clients want to perform the process to convert Thunderbird emails to Outlook file format so that they can secure their email database in their required account. So, the question arises that which better Thunderbird to Outlook Converter which is the third party software owned by CubexSoft, or manual steps which can be followed through the use of MS Outlook and Thunderbird accounts.
Answers may vary from one user to another as it depends on the volume of email files, if you want to convert Thunderbird emails to Outlook with limited files then you can follow the manual steps and if you have huge email data in your Thunderbird account, then you need to follow the steps of the Thunderbird to Outlook Converter utility.
Let's start with the Manual Steps:
Manual Steps to Export Thunderbird Emails to Outlook
Open the Thunderbird application.

Go to that folder which contains emails.

Select the required Thunderbird emails.

Right-click on the selected files and choose Save As option.

Browse the local folder and Save all opted emails.
Note: All data will be stored as EML file format, you can also have the option to export them into other application which can support EML format.
Start your MS Outlook application.

Create New Folder from the Menu section.

Drag the saved Thunderbird email files and drop them into that created folder of the MS Outlook application.
Through this procedure, you can convert your Thunderbird to Outlook application. But this procedure requires a complete technical presence otherwise you may lose your Thunderbird email database. There is no guarantee for structural maintenance which makes your data irrelevant. These are the basic reasons for which users want to use Thunderbird to Outlook Converter utility.
Thunderbird to Outlook Converter – Features & Steps
The tool contains many features that make this process easier for all users including those who have no idea about this email conversion process. This utility saves all Thunderbird data into Outlook PST format which can be uploaded on MS Outlook edition 2019, 2016, 2013, 2010, 2007, and so on.
Features to Convert Emails from Thunderbird to Outlook PST
With this tool, users can easily convert emails into Outlook format without any loss error.

This tool can perform this process in less time duration.

It allows users to convert selective Thunderbird emails with the help of its Filtration section.

No change in the structure of files. All elements like attachments, header sections, content, hyperlinks, etc. can be transferred.

The user-Friendly interface of the tool provides the best view of the tool for all users.
Steps of the Thunderbird to Outlook Converter
Step 1. Download the Thunderbird Email Converter on the computer system.
Step 2. Now, you can choose from Default Thunderbird Profiles and other Mailboxes/Profiles.
Step 3. Preview all loaded files so that only relevant data will be converted.
Step 4. Select the Outlook PST as an output format and utilize the filtration section if required.
Step 5. Click on the Export option and view the live status of the process.
After completion of these steps, you will get a completion message.
Conclusion
Now, it is easier for all users of the Thunderbird to select the perfect Thunderbird to Outlook conversion procedure. Users can follow both these methods for free. You can download the demo edition of the tool to check the relevancy and working procedure. This edition of the tool allows users to convert the first 20 emails from the Thunderbird Default Profile folder or selected Mailbox.
Previous Post
Next Post